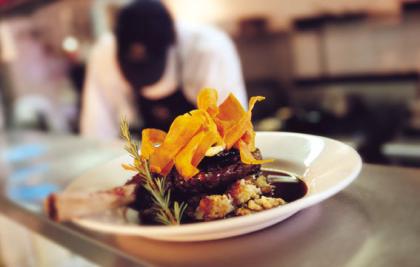 Travel and food – if these are two of your greatest passions, read on to discover gastronomic cooking experiences in the state's produce-rich South-West.
Details
Description
Many of us love the South-West in winter. Your travel companions usually include a bag of woolly jumpers and a couple of good books to snuggle up with under a blanket in front of a log fire. But imagine adding to this a warm country-style kitchen filled with friends, where aromas of fresh lightly fried garlic, rising sourdough and a decanting cab sav are heavy in the air. Or perhaps you can see yourself sitting in an elegant velvet-clad restaurant, champagne in hand, as you learn to make a risotto that's light and creamy and seems to melt in your mouth.
If your salivary glands are working overtime, quit thinking about these fabulous flavours and taste them on a gourmet cooking weekend in Margaret River. From a rustic experience in the kitchen at Wildwood Valley to the sophistication of Cape Lodge, there's a cooking experience to suit every chef's apprentice.

FOR LARGER GROUPS:
Cape Lodge ranks highly among UK magazine #Conde Nast's widely travelled readers. In a poll conducted by the well-respected publication at the end of 2004, the Yallingup retreat was voted the eighth most luxurious in Australasia and the South Pacific. More recently, however, the food at Cape Lodge was voted the fourth best in the world by the same readers, beating the likes of the Ritz Carlton and Claridge's in London, Hotel de Crillon in Paris, and Italy's Il Pellicano to name but a few.
So it's hardly surprising that recently the Lodge began running gourmet weekends. Offered about once every three months, the weekends cater not only to those interested in cooking but also to the wine buff, the garden enthusiast, the art critic and the ladies and gentlemen of leisure. Cooking classes and demonstrations, food master classes, picnics, gala dinners, wine tastings, art exhibitions and private garden tours are just some of the activities available during a typical gourmet weekend experience at Cape Lodge.
Planned for the next gourmet weekend are cooking demonstrations by chef David Rayner from Queensland's popular Riverhouse Restaurant, and Cape Lodge executive chef Tony Howell; master classes by the Blue Cow Cheese Co, Olio Bello and Yeehava Coffee; a vertical cabernet tasting with Vasse Felix; and a garden tour of the stunning Brookland Valley Secret Garden. While this may sound like one jam-packed weekend away, the three-hour classes are actually split into morning and afternoon sessions and guests nominate which they'd like to attend before the weekend starts.
If you find it hard to choose from this dizzying list of classes, we highly recommend you consider securing a place in Tony Howell's Saturday morning master class. Tony would have to be one of the South-West's best and most enthusiastic chefs, with an infectious passion for fresh food. "Our number one priority here is freshness," confirms Tony, who changes the menu at Cape Lodge daily based on the quality of produce available each morning. Tony's master classes focus not only on the dish, but also on valuable tips for using utensils. "We always get hands-on and learn the basics, like knife skills. Quite often the class will deviate from its original track and we'll end up spending 20 minutes chopping onions, but that's what people want to know," explains Tony.
And if you're not interested in kneading dough or slicing veggies, the gala dinner might be more up your alley. Cape Lodge general manager Drew Bernhardt says there's always a surprise or two in store, particularly for the wine enthusiast. "The gala evening is a five-course degustation dinner matched with wines (in this case from Cape Mentelle), and we're usually able to have quite a few back vintages and unusual styles available to us on the evening." This year, both Tony and David Rayner will prepare the degustation menu.

What: Gourmet Weekends at Cape Lodge, capelodge.com.au.
Where: Caves Road, Yallingup, (08) 9755 6311.
Who: The weekends are well suited to anyone with an interest in fine food and wine.
When: The next gourmet weekend will be held from May 21-22 and the following will be in August (dates yet to be confirmed). Booking early is essential.
Number of guests: Cape Lodge sleeps 50 guests and the new restaurant seats up to 40, so places at the gourmet weekends are reasonably limited.
Cost: Gourmet weekends start at $885 per person including three nights accommodation (for a real treat we recommend you upgrade to a superior spa suite) with a gourmet breakfast each morning, two master classes, picnic lunch, Cape Mentelle Winemaker's Dinner and a private garden tour.

FOR A RUSTIC EXPERIENCE:
Anything goes at Wildwood Valley where from the moment you arrive at reception you're made to feel like part of the family. In fact, it's owners Sioban and Carlo Baldini's warmth and hospitality that really sets this cooking experience apart from the others.
A chef by trade, Sioban has worked at some of Australia's leading restaurants, including Rockpool with Neil Perry and Longrain with Martin Boetz, where she developed a love for Thai cooking. Leaving the busy Sydney kitchens, Sioban decided to spend some time overseas where her travels led to Carlo's hometown of Tuscany. The couple met, fell in love (overcoming a barrage of cultural differences), and ended up running an Agritourismo (Italian-style B&B where guests are integrated into the family). The couple now run Sioban's family home and business, Wildwood Valley, and it takes just five minutes to realise that a little bit of Tuscany came with Carlo and Sioban when they returned to the property – a woodfired pizza oven, an expansive deck and endless stone walls have all been hand-made by Carlo since arriving in Australia.
The Baldinis also brought the Agritourismo idea home. Like all good Italian examples of this style of accommodation, they wanted Wildwood to be a place where guests could mingle with others, share meals, laugh over a glass of grappa or whatever takes your fancy (Wildwood isn't licensed so guests must bring their own alcohol) and enjoy the stunning views and country surrounds.
The best way to really become immersed in this incredibly warm atmosphere is to book into one of Sioban's Mad About Food Cooking Schools, where guests can choose to create either Thai or Italian dishes, these being Sioban's specialties. The weekends start on a Friday night with one of Carlo's Tuscan wood-fired pizza evenings, giving guests a chance to get to know one another. You'll rise to a gourmet breakfast on Saturday morning, then aprons are donned at around 10.30am for three hours of what Sioban describes as "blood, sweat and tears over a hot stove." In truth, the blood is more likely to be a glass of red wine and the tears likely to be ones of laughter, but definitely expect to perspire slightly – Sioban's kitchen really heats up during the classes. The fruits of your labour are then shared over a long lunch, leaving the afternoon free to do as you please. The group comes together again that evening for a banquet dinner, this time prepared solely by Sioban. The weekend finishes on Sunday with another gourmet breakfast giving guests a chance to bid adieu to new friends.

What: Wildwood Valley Mad About Food Cooking School.
Where: Wildwood Road, Yallingup, (08) 9755 2120, wildwoodvalley.com.au.
Who: Those looking for a rustic, laid-back experience.
When: May 20-22 – Authentic Thai; June 17-19 – A Taste of Tuscany; Sept 9-11 – Authentic Thai; October 28-30 – A Taste of Tuscany.
Number of guests: Cooking classes are limited to no more than 10 people, but the guesthouse and cottage can also accommodate non-participating guests, who are welcome to join in breakfasts and the banquet.
How much: Gourmet weekends start at $395 per person twin share including two nights accommodation, a recipe book and all meals. For those not wishing to join the cooking classes, there is a cost reduction of $90. As Wildwood Valley isn't licensed, guests must supply their own alcohol.

FOR A TOTALLY PRIVATE WEEKEND:
Weekends at the Bilton Hilton offer a maximum of 12 guests total privacy in a modern holiday house equipped with all the comforts of home, including a great CD collection (that is if Sting, Eurythmics, Simple Minds, Tracey Champman and Pink Floyd are among your personal favourites).
Designed with a trendy open-plan, the home features glazed concrete floors, a king-size bedroom, two queen rooms and two single beds in a fourth room, which can also be converted into a queen bed if requested. The kitchen is large and impressive with its hues of chrome and red, but the best feature, in our opinion, is the large balcony where plenty of entertaining, drinking, cooking and eating happens during the gourmet weekends.
The cooking tutorials are lead by Romano Rotelli, an Italian-born chef who, at the age of 14, began travelling through Italy, Switzerland and France, learning his trade along the way. Since immigrating to Australia in 1987, Romano has cooked for celebrities such as Tom Cruise, The Duchess of York and Elle on Lizard Island, managed the Coconut Beach Rainforest Resort in Cape Tribulation, and was the executive chef for five years at Flutes of Brookland Valley before starting his popular Witchcliffe restaurant Pensiero and business, the Margaret River Jam Co.
For owner of the Bilton Hilton, Sharon Bilton, it's important that the weekends are lead by a chef who is able to relate well to people and is able to talk about the produce, flavours and processes behind the dishes. So cooking participants can be assured that not only will they benefit from Romano's lifetime of experience – and to-die-for condiments – the tutorials will be relaxed and open to questions and discussion.
Along with the laid-back atmosphere, the other benefit of a Bilton Hilton cooking weekend is its flexibility. As Sharon explains, "the whole program is really up to the people that are staying. Guests arrive in their own time and they also decide when they want to have the classes so there's absolutely no pressure. The classes are a very private experience between the chef and the guests".

What: Cooking weekends at the Bilton Hilton.
Where: 6 Baudin Drive, Gnarabup, 0418 903 908.
Who: The weekends are best suited to small groups of couples, or ladies looking for a unique girls' weekend away.
When: Whenever, just as long as you book 14 days prior to your trip.
Number of guests: The holiday home sleeps up to 12 guests.
How much: Stays at the Bilton Hilton start from $180 for four people during the low season (May 1-August 31) and gourmet cooking classes are an added extra. While prices vary according to the request, all quotes include tuition, produce and pampering.

FOR A TOUCH OF SPAIN
After five years living in Spain, WA chef Jane Durkin has come home to open Wild Fig Jam in Yallingup – a charming country-style bed and breakfast. Fortunately for lovers of paella, tapas and gazpacho, she's returned with a host of traditional Spanish recipes and cooking techniques, which she's eager to pass on to interested students through cooking weekends at the property.
Designed with a heap of Spanish flair, Jane incorporates plenty of music, fun and wine into her cooking classes. While guests are encouraged to arrive on the Friday evening, the weekend really kicks off the next morning with a large breakfast. A leisurely lunch follows later in the day, then when guests have had time to recover their appetites, the "serious cooking" begins. The wine is opened and guests learn how to make a selection of tapas, paella that's loaded with fresh seafood, and a desert Jane calls "rumble tumble' picked up in an out-of-the-way restaurant in Albacete. The following morning, the cooking weekend comes to an end with another hearty breakfast, leaving guests to head home at their leisure.

What: Wild Fig Jam cooking weekends.
Where: Off Biddles Road, Dunsborough, (08) 9755 2221, wildfigjam.com.au.
Who: Those with a sense of fun and a penchant for all things Spanish.
When: Any weekend before June and after September, between June and September Jane will be back in Spain sourcing even more mouth-watering recipes to share with you all.
Number of guests: Groups of four couples or five singles.
Cost: $350-$450 per person depending on the room. Guests at Wild Fig Jam can choose to stay in one of four bedrooms – two with queen beds, the others with double and single configurations. Included in the price are cooking lessons, two nights accommodation, lunch and breakfast. Alcohol is not included.

FOR THE ADVENTUROUS:
Witchetty grub pate and wild rosemary smoked emu may not sound like the tastiest South-West cuisine, but these are just two of 25 unusual bush treats tried and tested with surprising results on a Bushtucker River Tour.
This four-hour experience begins with a two to three kilometre canoe up the Margaret River, which during the winter months offers smooth, wind-free conditions. Heading back towards the river mouth, tour operator Helen Lee stops her band of brave bushtucker-tasters on the river's banks, or in the shelter of a riverside cave during the wetter months, where a feast of berries, nuts, meats, salad, pastes and more is laid out in traditional food-gathering vessels. All the foods tasted are available from the surrounding bush and were legitimately eaten by the local Aboriginal people and Margaret River's pioneer family, the Bussells. Some of the produce is gathered there on the river's edge and no utensils or cutlery are used, keeping the experience as authentic as possible.
On the menu, along with the emu and grubs, is sea celery; gotacola ¬¬¬– a leaf that improves memory loss and arthritis; smoke bush, or wild rosemary, which is used to smoke the emu, kangaroo and bush turkey also sampled on the tour; Australian tomatoes, which have three times the vitamin C levels of an orange; bush tomato dukkah made with native peppers, wattle and sunflower seeds; native spinach; Pig's Face – a bush seed that tastes a little like kiwi fruit; native hibiscus otherwise known as rosella; lilly pilly – a fruit that tastes like a combination of apple and plum; dried limes, which taste similar to currants but with a citrus twang; bush tomato bread; spicy bush currants; quandongs; quandong flour; quandong chutney; hummus-like macadamia and gotacola paste; and, finally, emu plums, which to be frank, are quite possibly the world's spiciest and most effective natural laxative – consider this a dare!

What: Bushtucker River Tours
Where: Margaret River, (08) 9757 1084, bushtuckertours.com.
When: Tours depart at 9.45am from the Margaret River mouth and return at 2pm. Transport from your accommodation is available.
Who: Anyone with a sense of adventure and a love of the great outdoors.
Bring: Old closed-in shoes (these will get wet), a spare change of clothes and water.
Cost: $50 per adult and $30 per child.

COOKING CLASSES
So you don't want to spend an entire weekend learning to cook? Although the gourmet weekends at the above operators allow free time for those that want it, there are a couple of cooking school options in Margaret River perfectly suited to those on the go.

Jones Fine Foods:
This groovy fine food purveyor introduces a couple of new concepts to Margaret River. Firstly, there's Ex-Clairault executive chef and co-owner of the business Andrea Ilott's home-made take-away gourmet meals, which are made fresh on the premises each day – simply choose your cuisine, take home, reheat and enjoy. Then there's the cooking classes run by Andrea in the shop's modern demonstration kitchen on Thursday evenings and at noon on occasional Saturdays.
These fun classes are each two and a half to three hours long and teach a maximum of eight students sneaky chefs' secrets, equipment skills and everyday cooking techniques. Many of the classes aim at teaching people how to organise a dinner party, so entree, main and desert is covered in the class. Naturally, tastings are plentiful and occasionally wine makers from the region run a parallel wine tasting with the class.
Upcoming classes include a Chinese banquet, a Moroccan dinner party and Indian Tiffin street snacks. Classes range from $65 to $80 and everything is provided, including copies of all recipes demonstrated. Alcohol isn't provided but you're welcome to bring your own. Andrea suggests looking at the menu in advance and trying to match a wine. For more information call Jones Fine Food on (08) 9758 8990.

Aspenz:
Elizabeth Eastman also runs cooking classes in the region at her kitchen and giftware store Aspenz of Margaret River. While there's an outstanding selection of gadgets in-store, it's places at the fortnightly cooking demonstrations that seem to sell the quickest – Elizabeth tells us that classes fill within 24 to 48 hours of the program being released.
The classes are relatively informal and are always led by a guest chef who usually demonstrates three different dishes and shares personal cooking tips and techniques throughout the evening (past hosts have included Kate Lamont, Neil Jackson and Mark Gill). Elizabeth says that despite the calibre of guest chef, the classes are kept simple: "People who come want to be able to cook the same dishes in their own home so they can't be too fancy. We try to keep the emphasis on presentation and the freshness of the food."
Classes are on Tuesday nights from 7pm to 9pm and cost from $60 per person. Classes are also held on Monday nights at Aspenz in Bunbury. For an updated schedule call the Margaret River store on (08) 9758 7344.

Lamont's Margaret River:
Kate Lamont needs no introduction. She's been satisfying gourmet travellers for years at her East Perth, Swan Valley and Margaret River restaurants. But after running traditional cooking classes for more than a decade, Kate has devised a new cooking experience called Wine and Food Conversations with Kate Lamont that caters to a broader range of interests.
The idea sprang from the belief that today's food lovers are looking for more than just lessons on how to peel a tomato. And while Kate admits that a percentage of students still want to know these nitty gritty details, the interests of the participants are more diverse. "The conclusion I've come to is that most people who are interested in coming to cooking classes know how to cook and obviously have an interest in cooking, so what they really want is education and information," says Kate, who explains that her classes are presented as degustation dinners, accompanied by tastings of Lamont's Wines and dialogue from Kate herself.
The runaway success of the evenings is testimony to Kate's ability to pass on her two true loves – wine and food – to like-minded gourmet travellers. Booking well in advance, even tentatively, is absolutely crucial to ensure you avoid missing out on a ticket. Wine and Food Conversations with Kate Lamont will run at Lamont's Margaret River on June 4 and September 24 and cost $88 per person. Call (08) 9755 2434.
Location