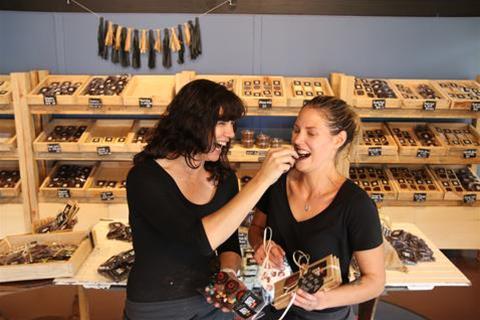 Temper Temper Fine Chocolate
Behind the endless chocolate creations at Temper Temper are just two chocolatiers, Roz and Georgia, who offer delicious chocolate to the Margaret River community.
Details
Providores:Chocolaterie
Open Days:Monday,Tuesday,Wednesday,Thursday,Friday,Saturday,Sunday
Description
With more than 180 shelves to keep stocked up and even more demand for our chocolate online, it is a hard task to keep on top of it all. But one look through the kitchen windows in the shop and you'll notice that these girls love what they do. (You might also notice they have a habit of turning their music up too loud and dancing when no one is looking, but hey. Nothing wrong with that.)
They have been working on a series of hot chocolate mixes – with flavours such as chilli, salted caramel and mint – and they would love for people to be able to enjoy those in their own kitchen, along with their signature hot chocolate spoons.
They are also planning some exciting classes for the public, where they'll teach people how to hand temper chocolate and create truffles. They've done a few classes and events in the past, such as the chocolate and tea pairing session with Seven Seas Tea. Watch this space!
They have a whole range for vegans with no dairy, no honey, no animal input of any kind.
Available for delivery.
Related
La Bratta Wines & Chocolate Experience
Location