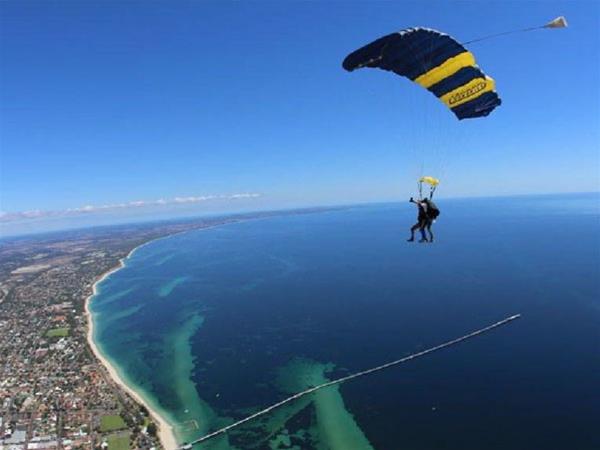 Skydive Geronimo Busselton
Skydiving over the famous Busselton Jetty, and land on the beach with Geronimo! Australia's #1 skydive experience.
Type:Tours
Activity:Skydiving
Details
Type:Tours
Open Days:Monday,Tuesday,Wednesday,Thursday,Friday,Saturday,Sunday
Description
Skydive Geronimo is Australia's #1 skydive experience. Offering tandem skydiving in 2 unique locations, Busselton in the Margaret River Region, and on Rottnest Island.
Your visit to the Margaret River region wouldn't be complete without an adrenalin-fuelled adventure at 15,000ft over Geographe Bay, Cape Naturaliste and the famous Busselton Jetty.
You and your Instructor will freefall at 200km/hr, before your parachute opens at 5,000ft, and you glide safely down to land on the beach. Family and frieds can enjoy all that the Busselton foreshore has to offer, before high-fiving you when you land.
Celebrate your skydive with a complimentary beer or wine at local beachside hangout, The Goose Bar and Kitchen. Skydiving is thirsty work!
Skydiving in Perth? Located only 2.5 hours drive south of Perth, Busselton is the perfect place to skydive. Make a day-trip down, or stay a while and enjoy all that this magnificent region has to offer.
Geronimo!
Location