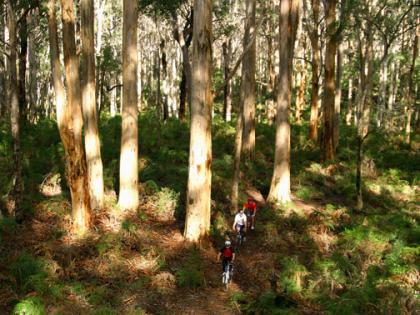 Dirty Detours Mountain Bike Adventures
Enjoy a casual ride through Boranup Forest, an exhilarating cross country bush excursion or a winery tour with a difference on a cycling adventure in Margaret River.
Tour Duration:1-4 day tours
Wheelchair Access:None
Type:Tours
Activity:Biking
Suited For:Teens (13 - 17),Adults (18+)
Details
Tour Locations:Margaret River
Type:Tours
Suited For:Teens (13 - 17),Adults (18+)
Description
Dirty Detours Mountain Bike Adventures is a small friendly Mountain Bike Adventure touring company, local to Margaret River. Established in 2003 and now in 2009 has new owners. Being avid travelers and insatiable riders ourselves, we take having fun very seriously, and showing you a good time is our profession.
Rob Oostdam started mountain biking in the Scottish Highlands in 1994. He worked as an adventure tourism guide in Alberta Canada before returning home to the Southwest. His passion started with building trails and freeriding. He now uses his knowledge to develop the local trails and encourage people to get outdoors and active while showing respect to the environment.
Tamara Oostdam has travelled extensively and has a passion for the outdoors. She enjoys working with people and encouraging them to achieve the most out of their tour experience. As your Sip n' Cycle tour guide, she has worked in the wine industry and will be sharing local wine and vine knowledge with you along the ride. Tam will provide invaluable information on our Sip n' Cycle winery tour.
Dirty Detours provides mountain bike tours through the most scenic locations Margaret River has to offer. We cater to all rider levels and groups of all sizes. We provide a diverse range of top level all inclusive tours at "send us broke prices". We ride locations no one else can access, and tailor the rides to suit the group.
Our forest adventure encourages you to lose yourself as you pedal through a diverse variety of terrain and landscapes. The scenic backdrop creates a motivating atmosphere to ride in. It's an exceptional day with immense rewards and is comfortably in reach of most active people.
For the experienced riders and those who prefer their scenery to be blurry. We have trails that are purpose built as a challenge for advanced riders. Steep, winding and technical. This is a dirty day out.
And for those looking for an active way to explore our local vineyards we offer a Sip n' Cycle winery tour…. Enjoy the natural sights and sounds of the Australian bush while cycling at a relaxed pace along tree lined forest paths and admiring the seasonal change of the fragrant vineyards. On some tours all you get is a blur as you speed past. On this tour you get the full sensory experience. This is the perfect balance of spectacular scenery, active exploration and an exceptional standard of our local Margaret River wines to sample. We visit our personally selected choice of Margaret River's prestigious cellar doors for tastings at your own relaxed pace, in intimate group sizes. Your day is complete with a platter of local produce in harmonious vineyard surroundings.
Tell us what you want! A laid back exploration of beautiful Boranup forest with friends? An advanced cross country thrashing through technical single track? A mountain bike winery tour? Or anything in between.
Now offering guided multi day cycling tours on the Munda Biddi Trail.
We pride ourselves on providing the best equipment, locations and service, and its all in the name of a good time. So take a dirty detour from that well worn tourist route and see the bits the mainstream miss. It's a whole new view.
Contact Rob & Tam for all your Dirty Detours needs…..
mob 0422343341 ph 97588312 www.dirtydetours.com [email protected]
Location