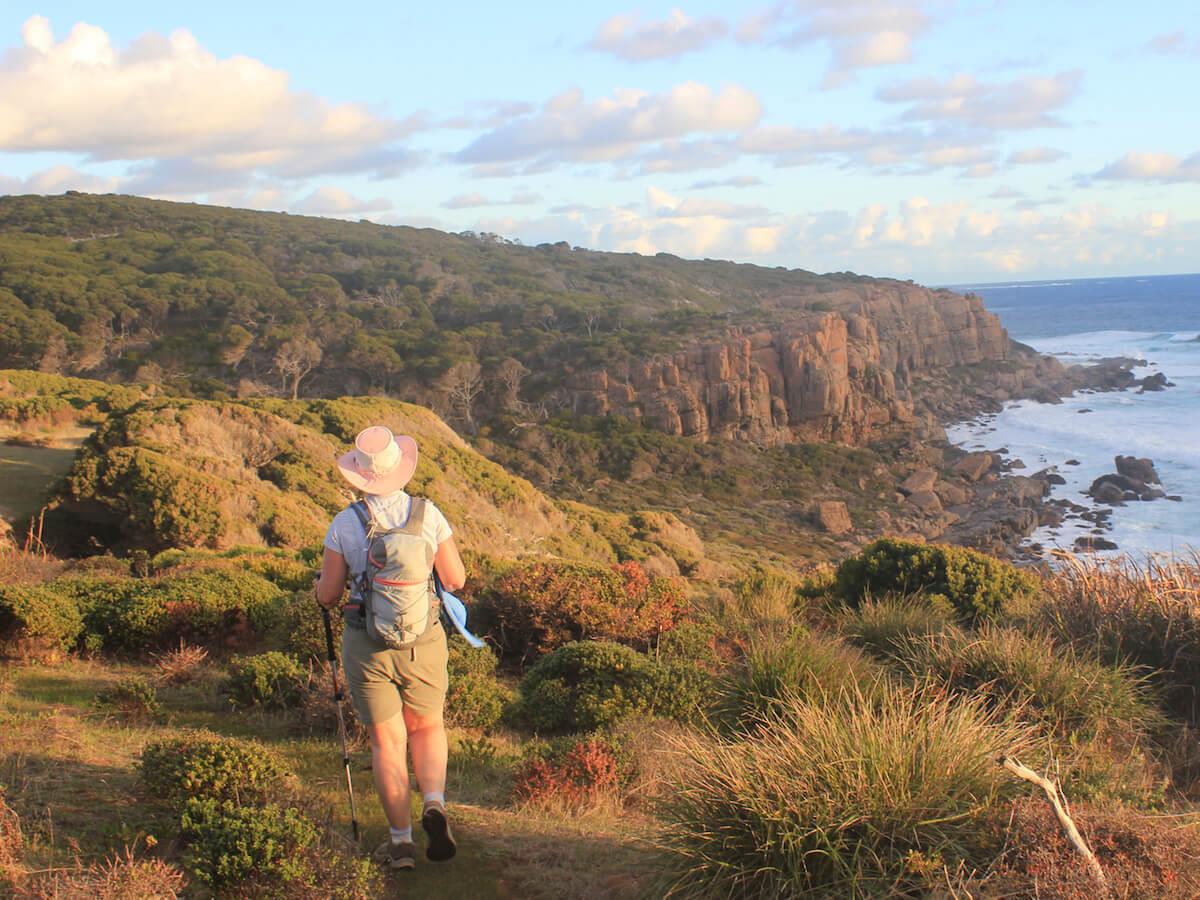 Cape to Cape Explorer Tours
We offer customised tours of the Cape to Cape Track to suit your needs. Locally based, highly qualified guides with a wealth of knowledge and experience in interpreting the Track. Half day, full day, weekend and end-to-end walks, catering to couples, small groups, conferences and corporate groups. We also offer Cape to Cape Experiences for school groups of all ages. We can assist with logistics and planning, provide track transfers and offer a comprehensive hiking gear hire service.
Course Duration:Various Tours
Tour Price:Various
Type:Tours
Activity:Bush Walking
Details
Description
Cape to Cape Explorer Tours specialise in offering tours and services centred around the Cape to Cape Track. We are locally based with highly qualified guides with a wealth of knowledge and experience in interpreting the track, local environment and culture.
Each year we offer a number of fully guided 'end to end' walks, staying in well appointed accommodation and enjoying high quality food and service. We specialise in interpreting the Track's geology, flora and fauna, culture, coastal and marine features so that participants leave with a deep understanding of the area. We are also able to assist groups organise their own trips with our guides, meals, accommodation and planning.
Cape to Cape Explorer Tours have assisted large corporate groups to experience the Track by offering leadership and teambuilding exercises designed to bring out the best in team members. In 2011 the team facilitated several three day expeditions for 50 emergency response personnel from one of Australia's leading mining companies. The team members crossed rivers at midnight, performed vertical cliff rescues, built bridges and catapults, cut crash victims out of vehicles with the jaws of life and walked and kayaked 32kms on their final day to finally reach Cape Naturaliste.
Cape to Cape Explorer Tours supports self guided walkers and groups who are attempting the Track, assisting with logistics and planning, organising accommodation and meals, a hiking hire gear service, a track transfer service and safety tracking service using satellite technology.
The team also provides educational tours, support and planning for a number of school groups to use the Cape to Cape Track to expose the students to outdoor and environmental education.
What's your favourite stretch of the Cape to Cape, and why?
Redgate Beach to Contos Cliff – It is a seven kilometre stretch and takes about two and a half hours if you are cruising. We love the diversity of terrain, the beach, the granite headlands, the limestone cliffs, the towering caves, the sensational lookouts and the winding hidden coastal track.
We love this stretch of the track so much we adopted the stretch from Bob's Hollow to Conto's Cliff. As an adoptee we are responsible for pruning the track, making sure the Track markers are in place and that there is not rubbish around.
Which parts of the track would you recommend for families, or those of a lower fitness level?
There are some fantastic short walks suitable for those of a lower fitness level and even those in a wheelchair.
The first three kilometres of the Track from Cape Naturaliste to Sugarloaf Rock is 'access for all' and features quality wooden boardwalks and bitumen pathways. Some final touches are underway as part of an upgrade for the recreation area at Sugarloaf Rock. The walk here features outstanding vistas of Sugarloaf Rock and the 'Windmills' surfbreak, stunning wildflowers and is great for spotting migrating humpback whales in the springtime.
Smith's Beach to Mitchell Rocks is another favourite section of the Track due to its high vantage points and amazing topography. This path heads up and over the granite gneiss bedrock and then up again over the limestone ridge at Rotary Lookout. Although short, at about 5kms, this stretch does have steep and rocky sections, great for young families with adventurous kids. Contact Cape to Cape Explorer Tours to experience this journey with an enthusiastic guide, fantastic morning tea and a few hidden surprises!
How about for people seeking a longer, more challenging journey?
For a longer, more challenging journey and the true Cape to Cape Track experience you can't go past the 'end to ender'. It does not matter if you begin at the northern end at Cape Naturaliste, or the southern end at Cape Leeuwin, the 135km coastal track is enough to challenge the most experienced hiker. The main challenges encountered include frequent sandy beach sections, rocky uneven climbs and compounding fatigue. Some prefer to carry all their gear and camp out on the track, while others prefer a guided tour where they to stay in 'off track' accommodation, ranging from caravan parks right up to five star luxury retreats.
Time taken to complete the entire walk ranges from five days (averaging 27kms a day) up to ten days (average of 13.5kms a day), depending upon group fitness, ability and desire to experience swimming in the pools and other delightful distractions!
Highlights from Cape to Cape Explorer Tours latest guided end to ender in October, straight from the participants themselves, included the flowers (amazing), the food (wow!), the physical challenge, the mental challenge, personal insights and group bonding, the breathtaking scenery, the level of guide local knowledge and quality interpretation. It truly is a fantastic experience and a real challenge.
For corporate or team groups we offer a two to seven day 'Cape to Cape Challenge', incorporating some of the best parts of the track, fully catered wilderness style camping, rock climbing, abseiling, sea kayaking and extra activities to suit the group including team building, leadership and planning activities along the way.
What are the best campsites along the track?
As far as wilderness campsite go that are away from roads and facilities my favourite campsite is Moses Rock South. It is situated high on a hillside and has great views south, yet totally sheltered because it is nestled into the coastal tee tree. When camping here you see no signs of humanity and you can't hear any cars, total bliss!
Cape to Cape Explorer Tours is running a two day highlight tour in 2012 that features a night of luxury staying in the national park, camping with all the comforts and no packing, not to be missed!
Are there any good places to swim?
There are some stunning stretches of the coastline perfect for a swim depending on the swell, tide and wind. Options include Yallingup Lagoon, southern end of Smith's Beach, Main Beach at Gracetown, Kilcarnup snorkelling in the mermaid holes, Prevelly for a swim and icecream at Gnarabup, Hamelin Bay, Cosy Corner, Deep Dene and a victorious dip at Quarry Bay near the Cape Leeuwin lighthouse. There is a plethora of other secret swimming holes that are only suitable in certain conditions… let our guides show you them all.
Location
Address: 5/45 Station Road,Margaret River,WA,6285
Phone: 0459 452 038
Email: [email protected]