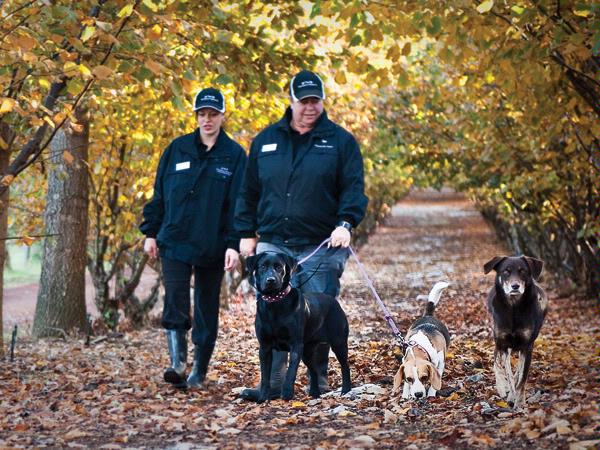 The Wine & Truffle Co.
Enjoy award-winning wines and food infused with the distinct and unique flavour of truffles, plus experience one of the world's only guided 'truffle hunt tours'.
Open Days/times:Cellar door: 10am to 4pm, daily. Restaurant: 11am to 3pm, daily
Wine Region:Southern Forests
Wine Variety:Sparkling,Fortified,Cabernet Franc,Cabernet Sauvignon,Chardonnay,Merlot,Pinot Gris,Pinot Noir,Sauvignon Blanc,Semillon,Shiraz
Details
Brands:Truffle Hill Wines
Cases Produced:4000 cases
Established:1997
Vineyards:9 hectares
Winemaker:Ben Haines and Mark Aitken
Facilities:Cellar Door,Restaurant,Functions
Description
The Truffle & Wine Co. has grown from humble beginnings in 1997 to become Australia's most significant truffle grower, contributing around 60% of the nation's annual production, which is mostly exported.
It's easy to feel like you're in the heart of France when entering this truffle farm and vineyard. Vines, orchards and misty valleys provide a beautiful setting in which to enjoy award-winning wines at the Cellar Door, along with food infused with the distinct and unique flavour of truffles in the Restaurant.
The wine range comprises mostly dry table wines that are elegant in style. There's a sparkling Shiraz and Shiraz Liqueur too. All wines can be tasted at the Cellar Door which is open 10am – 4pm daily.
The Food
The Truffle Restaurant serves lunch daily, showcasing a menu of rustic, local fare to showcase the truffles and award-winning wines in the most spectacular manner. Bookings are recommended.
Unique Highlights
The Truffière is the largest cultivator of the gourmet French black truffle in the southern hemisphere and the Wine & Truffle Co is one of the few Truffières in the world where you can participate in the excitement of a guided 'truffle hunt'. Experience the excitement of a guided 'truffle hunt tour' and search for the elusive 'Black Diamond". Tours operate during truffle season from June to August.
Location