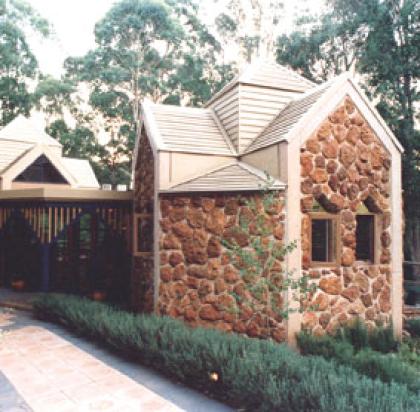 Pizza's with homemade chutney, hearty soups served with fresh crusty bread and hot pancakes topped with in-season fruits are sure to get your tastebuds working overtime in Manjimup.
Details
Description
Graphiti Cafe
With a reputation for "city-style" coffee, quirky food and country-style service, Graphiti Cafe has established itself over the past six years as a place not to miss when visiting Manjimup. Only a short drive from the town centre, the cafe is set smack bang in the middle of karri forest and is within walking distance of the Bibbulmun Track and historic One Tree Bridge site.

Chef Elle Davey-Smithin says the cafe is renowned for its amazing Segafredo coffee, homemade pizza bases, cakes and Turkish bread, and wholesome Sunday breakfasts, featuring the ever-popular eggs benedict.

Elle says it's easy to source great produce in Manjimup, describing the town as "the fruit and vegetable bowl of the South-West". With this is mind, she constantly changes the menu to include the best of the local fare. An example is the cherry coulis, which Elle describes as similar to a tart fruit sauce, served on French toast. Other dishes include a pizza with homemade date chutney, sour cream, Brie and sunflower kernels; a chicken laksa; and a prawn fettuccine. "It's a classy cafe menu without the cost," Elle says.

The cafe, which was architecturally designed by Elle's father, features cathedral windows to take advantage of the spectacular views of the forest, locally sourced stone walls, and bright red and blue painted feature walls inside – not exactly what you'd expect to find in the middle of a forest!

Graphiti is open Wednesday to Saturday, from 10am-5pm, and on Sunday from 9am-5pm.

Slice of Heaven
Slice of Heaven, located in the heart of Manjimup, offers cafe-style food prepared in-house by chef and manager Janine Reimers, who does her best to create an ambient and warm atmosphere for her diners.

Although take-away food is available, Janine and her staff prefer to encourage customers to sit down, relax and enjoy the home-cooked meals on offer. Some of the light meals to enjoy include soups, foccacias, crusty rolls, warm chicken salads, cakes and coffee, and a variety of specials that change daily. The cafe sources its much-loved coffee from Mojo's in Bunbury (formerly Benesse Coffee), which imports the beans and roasts them on its premises.

Slice of Heaven has been running for the past four years and is open from 8.30am to 5pm, Monday to Friday, and until 12 noon on Saturday. It's also available for functions after 5pm on request.

Deja Vu Cafe
Another daytime eating venue located right in the centre of Manjimup is Deja Vu Cafe.
Here, you can kick back and relax on the comfy couches with a sandwich, browse the internet over a cup of coffee, or set up camp for a long lunch with family and friends.

A wide selection of locally sourced homemade food is available, which is freshly cooked on the premises. The cafe offers all-day breakfasts, dine-in and take-away meals, light lunches, pastries, hot dogs, burgers, chips, wedges, continental rolls and other sandwiches. And although Déjà Vu isn't licensed to sell alcohol, patrons are more than welcome to bring their own.

Owner and chef Paula Benson says a favourite with customers is the deluxe breakfast, which includes bacon, eggs, sausages, spaghetti or baked beans, tomato and toast. Any extras, such as mushrooms, can also be added. Pancakes with in-season fruit toppings are also popular, as is the large selection of homemade cakes.

The cafe consciously caters for children, offering a special kids' menu and designated play area.

Opening hours are Monday to Wednesday from 8.30am-5.30pm, Thursday to Saturday from 8.30am-late, and Sunday from 9.30am-4.30pm. Other bookings are available by arrangement.

Creative Collectibles Gallery Cafe
For a Manjimup dining experience with a difference, head down the road to Creative Collectibles Cafe. Overlooking 10ha of pristine parklands, Creative Collectibles offers a diverse cafe-style menu, plenty of seating and is also the only art gallery in town.

Owner and self-taught chef Paul Marsh sources arts and crafts both locally and nationally, including wooden clocks, jarrah tables, horseshoe products and heritage postcards. Customers can stop in for breakfast and a browse from 9am, or alternatively order a hearty lunch after viewing the gallery – focaccias, soups, parmiagiana dishes, fisherman's baskets and sandwiches are particularly popular. And if you love a good pie, the cafe is also the only independent distributor (outside of the franchise system) of Jester's Pies. Paul's philosophy is that he'd rather give his customers too much food than not enough, so you certainly won't walk away from here feeling hungry.

Open seven days from 9am to 5pm, Creative Collectibles is an ideal venue for tour groups and families.

After dark:
Dinner options in Manjimup include the various hotel and motel restaurants, which usually offer an extensive blackboard menu with value-for-money meals. For a more exotic flavour, the local Chinese or Thai restaurants may be more to your liking. Tuk Tuk Thai Restaurant is only open on Friday and Saturday evenings but is apparently worth booking in to if you can.

Places to eat in Manjimup – Pull box
Graphiti Cafe, (08) 9772 1283.
Creative Collectibles Gallery Cafe, (08) 9771 8228.
Slice of Heaven, (08) 9777 1331.
Deja Vu Cafe, (08) 9771 2978.
Cabernet Restaurant, (08) 9771 1177.
Jarrah Lodge Restaurant, (08) 9771 1900.
Manjimup Hotel Restaurant, (08) 9771 1322.
Tuk Tuk Thai restaurant, (08) 9771 1333.
Manjimup Chinese Restaurant, (08) 9777 2183.
Dingup House Bed and Breakfast, (08) 9772 4203.
Quinninup Tavern, (08) 9773 1245.
Southern Forest Motor Hotel, (08) 9771 1477.
Location