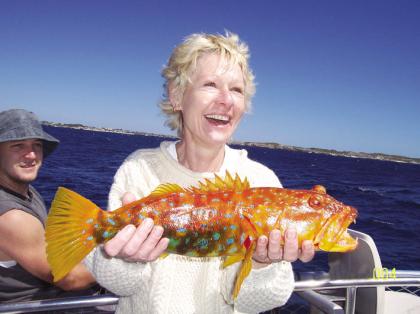 The Peel Region, in particular Mandurah with its beaches, canals, river and estuary, is a water lover's paradise. But it's further out to sea that a different kind of paradise is waiting in the depths of the big blue – a deep-sea fishing heaven.
Details
Description
For those who have never tried deep-sea fishing, it involves heading way out to sea and dropping a line and a baited hook down to the bottom of the ocean – up to 90m deep. Ideally, the end result is hooking a large bottom-dwelling fish and successfully bringing it to the surface.
Mandurah is blessed with a variety of quality fishing grounds within a reasonable distance from one another, so you don't have to spend all day travelling to find fish. And having so many areas full of fish means that charter companies can go to different sites every day, conserving areas for future generations.
Four companies offer deep-sea fishing charters out of Mandurah and Port Bouvard and, while they vary slightly in price and fishing destination, each offers a similar day out on the ocean. Most deep-sea fishing charters depart between 6am and 6.30am and travel out to sea for up to two hours before the fishing begins. If you're not accustomed to travelling long distances in a boat, you might want to take a seasick tablet before heading off – just to be on the safe side. Once at your destination, it's time to bait up and drop in your line. Fish you're likely to hook off the coast of Mandurah include Western Australian dhufish, harlequin, pink snapper, red snapper, breaksea cod, baldchin groper, Samson fish, King George whiting and maybe even a shark. Charters return back to port at about 3.30pm or 4pm.
Each charter company provides fishing gear, bait and as much guidance as each individual requires. So if you don't even know how to bait a hook, don't worry – learning even the most basic requirements of fishing is all part of the day out. Of course if you already know what you're doing and want to be left to your own devices, that's fine too.
Aqualib Marine Charters and Port Bouvard Charters provide a cook up of bacon and eggs on the boat before take off, as well as morning tea and lunch out at sea and cool drinks and water throughout the day. Blue Lightning Game Fishing Charters provides lunch but passengers will need to bring their own drinks and any other nibblies that may be required, while Mandurah Fishing Charters requires you to take your own food and drinks for the day, but are also the cheapest.
A deep-sea fishing charter in Mandurah is not just about the fishing, but also about the experience of having a day out on the ocean with plenty of fresh sea air and an opportunity to catch your dinner. Aqualib Charters says that if anyone doesn't catch a fish, they will be given a 1kg bag of fillets to take home, so no-one walks away empty handed.

Book a charter:
For a full-day charter for up to 13 people with Aqualib Marine Charters. Call (08) 9586 9778.
Port Bouvard Charters offers full-day charters on weekdays, weekends and public holidays, includes refreshments. Call (08) 9534 2582.
Full-day charters with Blue Lightning includes refreshments and the full boat can be hired for up to 19 people. Call (08) 9586 3466.
Mandurah Fishing Charters offers a full-day charter, specialising in small groups of up to six guests. Call 0417 952 534.


Where to buy gear:
If you find yourself hooked on deep-sea fishing and want to buy your own fishing gear for future adventures, you will find a good selection of gear and friendly advice at the following Mandurah outlets:
Mandurah Tackle Mart, (08) 9535 3382.
Tuckey's Tackle, (08) 9535 1228.
Totally Wild Fishing and Camping, (08) 9581 8877.
Fishing and Camping World, (08) 9586 2749.
Location