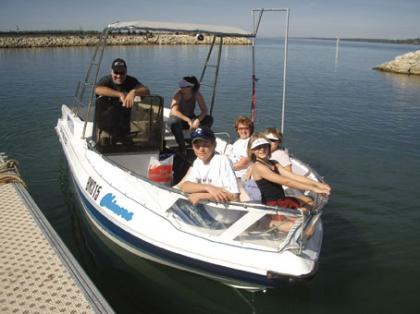 For knockout views of Mandurah's coastline, canals and dolphins, get airborne on a parasailing adventure tour.
Details
Description
Parasailing has become an extremely popular adventure activity here in the west, with operators across the state offering safe, reliable parasailing experiences. So if you're heading south, swing past the new Mandurah Ocean Marina where West Coast Parasailing have been operating since October.
Traditionally, Parasailing is any sport where a parasail (which is basically a parachute) is attached to some form of moving transportation, such as a 4WD or speedboat. A person is strapped into a harness that's attached to the sail, which rises into the air once the vehicle gains momentum. Winchboat is the most popular form of parasailing, where you're launched from a boat that's equipped with a parasail inflation system and a hydraulic winch powered by the main engine. This is the safest form of parasailing and, on a commercial level, it's the only type that's legal here in WA.
Formerly known as Fremantle Parasailing, West Coast offers adrenalin junkies truly "air-raising" experiences throughout the summer months. As the old name suggests, the company was based in Fremantle but owners Chris and Trish Cant were drawn to Mandurah by the excitement of the bustling new Ocean Marina and the increase in visitor numbers to the city over the past year or two. As Trish enthusiastically tells us, the new Ocean Marina is "just going off! There's markets, restaurants, a huge fish and chip shop – tourism is alive and well and advancing in Mandurah". So in the opinion of the Cants, the only missing ingredient was parasailing to draw an even larger crowd.
While being harnessed to a parachute and released 400ft into the air may not sound like the safest weekend pastime, we're assured that the tours are 100 percent safe. The youngest visitor to have ever parasailed with the Cants was five years old and their oldest, 85. Families, couples and anyone with a sense of adventure are welcome on a tour – the Cants have even had a mid-air engagement.
West Coast Parasailing is licensed to carry six people at a time. Cruising in a boat that's been custom-made for parasailing, the tours head out of the Marina and around to Halls Head. Each participant is harnessed and decked out in a life jacket before being hooked up to the "chute". A deckie is always on hand to make sure everyone's been harnessed correctly and the skipper controls the winch and the chute, keeping an eye on the direction of the wind at all times.
Each parasail lasts 15 minutes on a standard tour and can be done solo or tandem, depending on the strength of the wind (if the wind is light a tandem sail may not be possible). Before heading up, your deckie will teach you how to steer your chute so that once in the air you have complete freedom – take photos of the spectacular panoramic views over Mandurah, do somersaults or simply savour the feeling of flying. Trish tells us that many of their guests enjoy being slowly "dunked" into the ocean before being snapped back into the air, so make sure you bring a towel and a change of clothes. If you're heading out with a full boat, the total tour time will be approximately one and a half hours, although if all six guests choose to ride tandem, a tour will last around 45 minutes.
Once your tour is over, West Coast Parasailing has shower and change room facilities at the marina for those who'd like to freshen up before enjoying the rest of their day on the Peel Coast. Currently, the Cants are operating on the weekends only, but are more than happy to take visitors out on a tour mid-week by appointment. To avoid disappointment, we recommend you call in advance. A standard tour is $75 per person, or $120 if you decide to go tandem.
If you'd like more time in the air, the company also welcomes corporate bookings at a fee of about $250 an hour, including deckie and skipper. For further details on both standard tours and corporate bookings call (08) 9534 3449.

You want more?
If your parasail wasn't enough of an adrenalin rush, check out West Coast Jet Boat's new jet propelled ocean rides. Lasting 25 minutes, tour-goers are taken on an exhilarating cruise from the Mandurah Marina out to the ocean, travelling at up to 80km/h.
Location