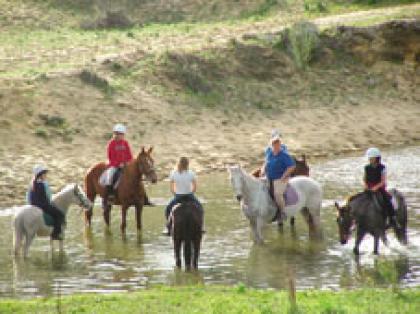 Peel's vast plains, majestic native forests and rolling countryside make it the perfect place to pull on a pair of jodhpurs and saddle up.
Details
Description
With a history rich in agriculture, it's only natural the Peel inland area is a popular choice for people seeking an authentic horseriding tour. Farming areas like Karnup, Pinjarra and Waroona – all only between 45 minutes and 90 minutes' drive from Perth – provide the perfect backdrop for whiling away an afternoon on horseback.

About an hour's drive from Perth is Pinjarra, which was one of the first towns established in Western Australia and is fondly referred to as the state's horse capital. Pioneer Trails is a horseriding company in the area, which runs supervised trails up into the hills of the scenic State forest. Owner John Watts and his partner Evelyn take one and two-hour trails at $30 an hour per person, and group wagon trails, which cost $100. John says all his ponies and horses are good-natured, so are suitable for beginners and children. For safety reasons, only five people usually go out a time and the most advanced pace you'll get to is a canter – even then, only if John and Evelyn are satisfied you're experienced enough. Before setting out, you'll get a quick lesson to determine your level of experience. Pioneer Trails is about 8km out of Pinjarra on Napier Road, which runs off Williams Road.

Langford Hill Riding Farm in Waroona has been running horseriding trails for the past 20 years. Owner Wendy Thomas, who has 70 years experience under her belt, offers a variety of trails for riders of all levels. Wendy says a popular choice is the ride up through the hills to Lake Navarino Restaurant and Kiosk. After riding for an hour up to the restaurant, you can stop in for morning tea, lunch or afternoon tea (at your own expense) before hopping back on your sturdy steed and returning to the farm. This tour costs $40.
If you simply want to take in the scenery of the undulating hills and picturesque Drakesbook Weir, Wendy offers one, two and three-hour rides, starting at $25 for the first hour and going up $15 an hour thereafter. All rides are escorted and children are taken on a leading rein. To find Langford Hill Riding Farm from the city, you travel down South West Highway, turn left at Waroona into Thatcher Street, then right into Elliot Street. When you hit a fork in the road, go right, then right again at the next fork, which will lead you to the farm. Bookings are by appointment only.

Amarillo Riding School in Karnup is about a 45-minute drive from the city down Kwinana freeway. Located next door to the Marapana Wildlife World on a widely used tourist route, Amarillo is set over 26.3ha of grazing pastureland. Owner Jodie Wheeler runs one and two-hour fully escorted trail rides on the property, charging $20 a person for one hour and $30 for two hours. Jodie says a highlight for riders is stopping off at a dam on the property and allowing the horses to have a paddle and a drink. There are 30 horses available for trails, which are matched according to the rider's level of experience, but trails are kept to a maximum of 10 people at one time. Jodie has 22 years horseriding experience and says her employees are also very experienced riders. Trails at Amarillo are by appointment only and are run mostly on weekends.

What to wear
All riding schools provide riders with a safety helmet and some also provide smooth-soled riding boots. It's recommended you wear jeans, tracksuit pants or jodhpurs for a comfortable ride. Keep in mind that mornings are still cool throughout spring, so it's wise to bring a warm jacket.

Ride 'em cowboy! – maybe a pull box Ness?
If you're in the Boddington area on the first Saturday of November, check out the annual rodeo, held at Boddington's rodeo complex. The rodeo has been a highlight in the town since its inception in 1976 and is recognised as the largest in WA. Afterwards you can mingle with the competitors, as the entertainment continues well into the night. For more details on the Boddington Lions Rodeo, call Stan Sherry on (08) 9883 8221.

Contact:
Pioneer Trails, Napier Road, Pinjarra, 0419939697.
Langford Hill Riding Farm, Nanga Brook Road, Waroona, 08) 9733 1455.
Amarillo Riding School, Paganoni Road, Karnup, 0410 466 861.
Location