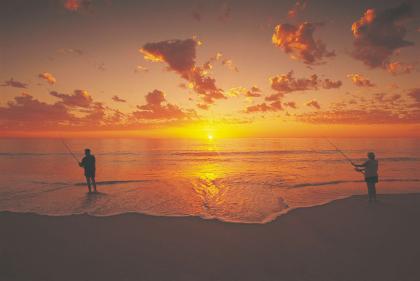 Wind down your windows and taste the salty air as you go four-wheel driving along the beaches of the Peel Coast.
Details
Description
The City of Mandurah is home to two of the Peel Coast's best four-wheel driving locations – Tims Thicket and Whitehills. These beaches are the closest southern locations from Perth where you can legally drive on the beach. The next closest is near Lancelin, about two hours north of Perth.

City slickers who rarely get the chance to give their 4WD a work-out visit the beaches simply to cruise up and down the coast. But according to regular visitor Chris Richardson, that's not all to do at Tims Thicket and Whitehills: " The surfing and the fishing there is excellent, we go all the time," he says. " Lots of people tend to go there when the salmon and tailor are running just before winter." Chris says fishing is excellent right along both beaches and also admits that half the fun is being able to give the 4WD a bit of a bash.

About 15km south of Mandurah on the Perth to Bunbury Highway is the turn off to Tims Thicket beach. This road eventually terminates and you can either get down to the beach via a pedestrian path that crosses over two sand dunes, or for those looking to get off road, there's a 4WD track immediately to your right. After a short drive along the track, a fork in the road will take you down onto the southern end of the beach.

Unfortunately, you can only drive south from the original entry point onto Tims Thicket, as driving on the beach north of here is prohibited. Also, owners of dune buggies, four-wheelers and motorbikes will need to go elsewhere, as only 4WD vehicles registered for road use are allowed on the beach. Access is restricted to the beach only ¬– you can't drive, sandboard or even walk on the dunes, as this can cause significant damage to the environment, which requires hours of volunteer work to repair.

The beach at Tims Thicket runs for 2km south until you reach a limestone foot reef. At high tide these reefs can be impossible to pass in a vehicle, so you'll need to backtrack along Tims Thicket to the point where you originally entered the beach. If it's low tide, you can usually drive around the reef and straight onto a 4WD access track that takes you back through Yalgorup National Park to the original starting point. If you choose not to follow this track, your other alternative is to keep going past Seal Rock (which is another limestone headland only passable at low tide) and on to Whitehills Beach.

Along both of the beaches you are asked to abide by some simple rules that will help to protect and preserve the area. Stay on the beach and use only the approved entry and exit areas, which are clearly marked. Absolutely no access is permitted in the dunes and camping is not permitted on the beaches, although you're allowed to prepare meals using a gas burner. All litter is to be removed – there are bins provided on both Tims Thicket and Whitehills Road.

When setting off on your all-terrain adventure, remember that only fools rush in. You need to be prepared with some essentials, as sand driving is some of the most difficult you'll experience and just having a good car isn't enough. Ray Harris from Eureka Tours has driven all over WA and has lots of experience on Tims Thicket and Whitehills. "it can be quite challenging going from Tims Thicket to Preston Beach. The beach can get very soft and boggy, and you can easily get caught," he says. "A lot of people go unprepared. I see people stranded all the time and we're always getting people out of trouble."

To avoid this situation Ray suggests you take a first aid kit, fire extinguisher, shovel, tyre pump, pressure gauge, compressor, snatch strap (for getting you out if you're bogged), rated shackles, and have rated recovery points fitted to your vehicle. These recovery points are essential for all four-wheel driving and can be picked up cheaply at most good 4WD accessory stores. It's also a good idea to go in convoy as it's easy to get into trouble on your own.

If you haven't had much experience on different surfaces in a 4WD, it's a good idea to get some training. Eureka Tours offers a range of courses for both recreational and commercial drivers and will teach you how to tackle difficult surfaces like soft sand, mud, water crossings and more. For full details, visit its website, eureka4wd.com.au.
Location