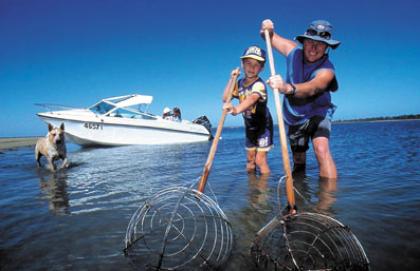 Blue Manna Crabs are in season during summer and the best place to drop your nets is the waterways of Mandurah.
Details
Description
Mandurah is renowned for being an excellent crabbing destination, especially during summer when the Blue Manna Crabs are mating and feeding most actively. Found in the Peel Inlet, Harvey Estuary and rivers feeding into the Estuary, they spend most of their daytime buried beneath the sand and their evenings out scavenging for food. Subsequently, the twilight hours are the best for crabbing.

Blue Manna Crabs come in a variety of colours from brown through to purple and blue, have flat bodies and long slender claws. They can be quite easily seen in the sand, in mud and in seaweed covered areas. There are a couple of easy ways to catch a crab. One is from a dinghy or jetty using drop nets, the other is by wading through the shallow water with long-handled wire basket scoop nets.

If you're fishing from a boat or a jetty your nets should be baited with either fish or meat scraps, then set in deep water channels. The Harvey Estuary and Sticks Channel are particularly good spots. The drop nets can have a diameter of no more than 1.5m and a maximum of ten drops per boat is all that's permitted.

If you decide to roll up your pants and crab from the shore, a great place to head is the bypass bridge. Maximum bag limits restrict catches to 10 per person per day and anything smaller than 127mm across the carapace must be returned to the water. Crabbers should always carry a flashlight and measuring gauge, which is available from most tackle shops.

There are some operators in Mandurah who take people out on regular crabbing tours, so if you want to arrange a group outing, you can contact a charter tour company who will gladly take you out and about.

Crabbing isn't difficult, so it's a great activity for those who haven't done it before. The most popular way for visitors to experience the sport is by hiring a dinghy or pontoon, which you can borrow from one hour through to a full day. Many of the operators can loan you crabbing equipment, sell you bait and give specific advice on where the best crabbing places are in the area.

Another great alternative is to hire a houseboat for your holiday. Extremely popular during summer, the houseboats often come equipped with crabbing gear and can venture out to many of the best crabbing locations allowing you to crab at your will without having to get the boat back on time. Most accommodation operators in the area also loan their guest gear and bait.

If you love the sport and want to invest in your own crabbing equipment, all the major tackle shops in Mandurah sell gear and bait. Supermarkets sell scoop nets, and fish and chip shops also sell bait - maybe you can pick up some chunky fries and battered snapper for the journey!
Location