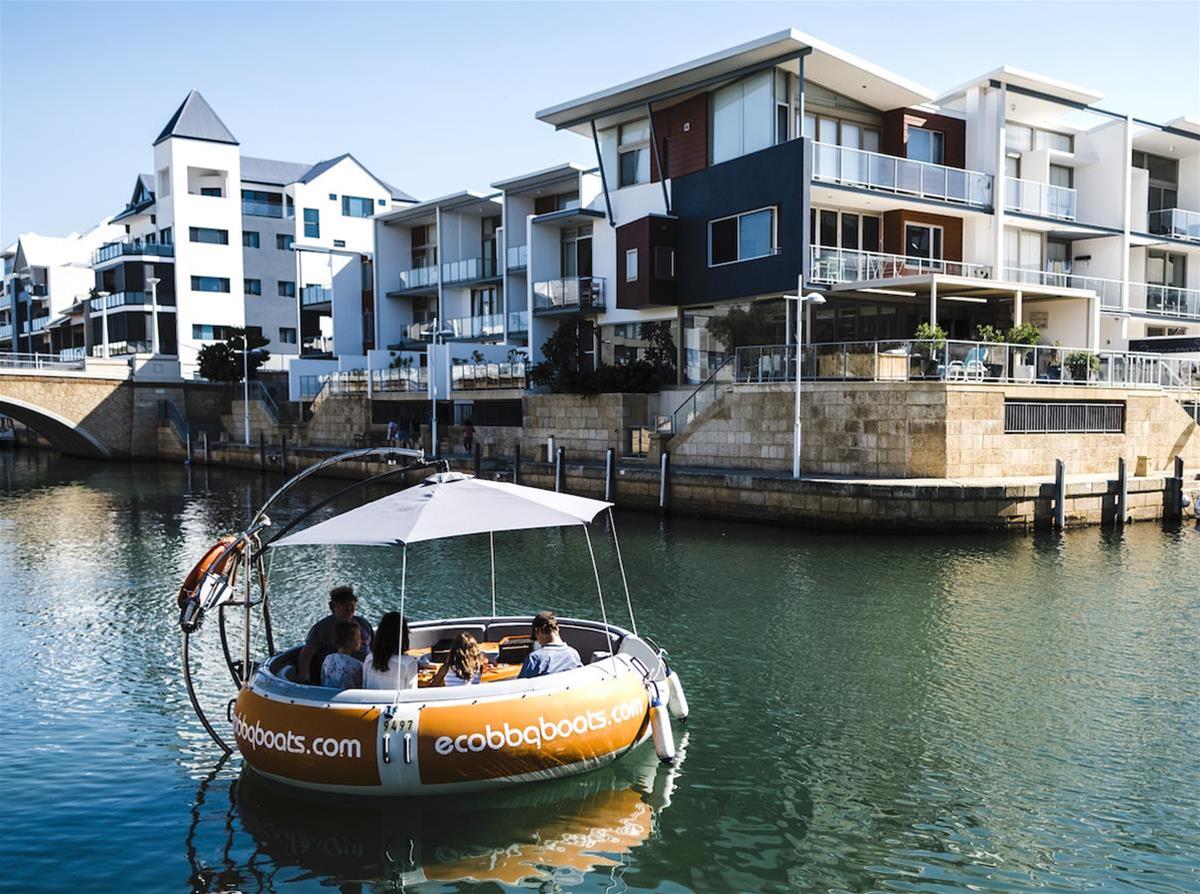 Eco Bbq Boats
Be your own captain and float around the beautiful Mandurah Ocean Marina and Venetian Canals to enjoy your very own floating barbecue onboard these incredible donut-shaped boats.
Tour Price:From $189
Type:Attractions,Charters & Rentals,Tours
Activity:Kayak/Canoe/Raft
Suited For:Adults (18+)
Details
Tour Capacity:Seats up to 6 or 10
Tour Locations:Mandurah Ocean Marina
Type:Attractions,Charters & Rentals,Tours
Suited For:Adults (18+)
Open Days:Monday,Tuesday,Wednesday,Thursday,Friday,Saturday,Sunday
Description
Eco BBQ Boats' fleet of 4 boats with a total capacity of 32 seats can be booked by groups from as small as two passengers to as big as 32 passengers for basic self-drive tours up to exclusive fully catered packages.
Their ultimate eco-friendly 360° dining experience on the water includes zero-emission electric boating with reusable dishes, Bluetooth sound system and chemical-free cleaning of boats, dishes and BBQs.
As Australian Marine and Tourism accredited business they operate thheir boats inside the Mandurah Ocean Marina but also on the Mandurah Foreshore and in the Mandurah Canals. In 2018, they started their second rental location opposite Perth CBD/Elizabeth Quay on Swan River.
Their mission is to reduce the impact on the environment and to preserve natural resources while giving you the most welcoming and outstanding experience of Mandurah's natural marine assets.
Eco BBQ Boats Mandurah are thrilled to have been awarded with the Tripadvisor Certificate of Excellence in 2018 and were rated nationwide as sixth-best Australian Exploration Tour 2018 by the global travel website Flight Network.
Location
Address: Dolphin Quay, Mandurah, WA, 6210,Mandurah,WA,6210
Phone: 9581 1242
Email: [email protected]