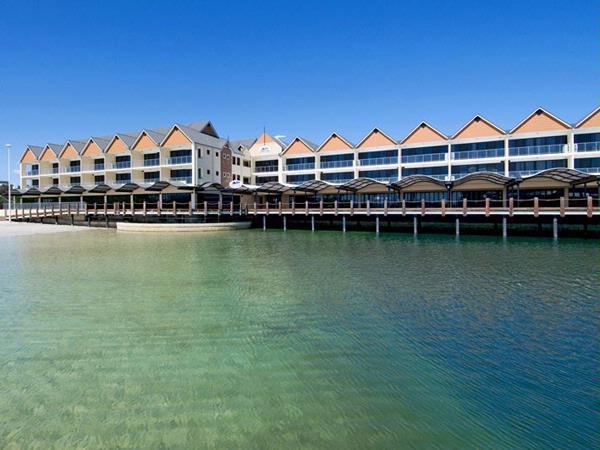 Quality Suites CREST Mandurah
Quality Suites CREST Mandurah is Western Australia's newest accommodation development. Located on the beach at the award winning Mandurah Ocean Marina. Boasting 56 two bedroom, two bathroom suites overlooking the ocean.
Details
Capacity:168
Type:Apartments
Facilities:On the Water,Wheelchair Access,Bar,Family Friendly,Restaurant
Description
Imagine sitting on your balcony, the weather is balmy, the kids are on the beach in front of your apartment, and as you watch the sun slip down over the horizon on the ocean you notice the flotilla of yachts retiring to the marina below. A glass of local red, that latest book and not a care in the world.
This is the Aussie experience that you can enjoy when staying at Western Australia's newest accommodation venue, the Quality Suites CREST Mandurah. Located on the award winning Mandurah Ocean Marina, with views to the Indian Ocean, the apartment hotel offers 54 two bedroom two bathroom suites, and 2 studio disabled suites, each with their own kitchen, laundry and spacious balconies.
A mix of granite bench tops, stainless steel appliances and modern contemporary furnishing create your very own seaside holiday home away from home. With children's playgrounds and landscaped waterside parks at your doorstep, there is something for everyone. Or take an evening stroll along the foreshore dining on fish and chips and local ice-cream at one of the various local operators.
Tired of self catering, on the boardwalk below, and across the water you are surrounded by Mandurah's Dolphin Quay dining and retail precinct. Watch the Dolphins from the bow of the ferry as you do one of the popular one hour canal cruises.
Location
Address: 1 The Palladio,Mandurah,WA,6210
Phone: 1800 624 633
Email: [email protected]