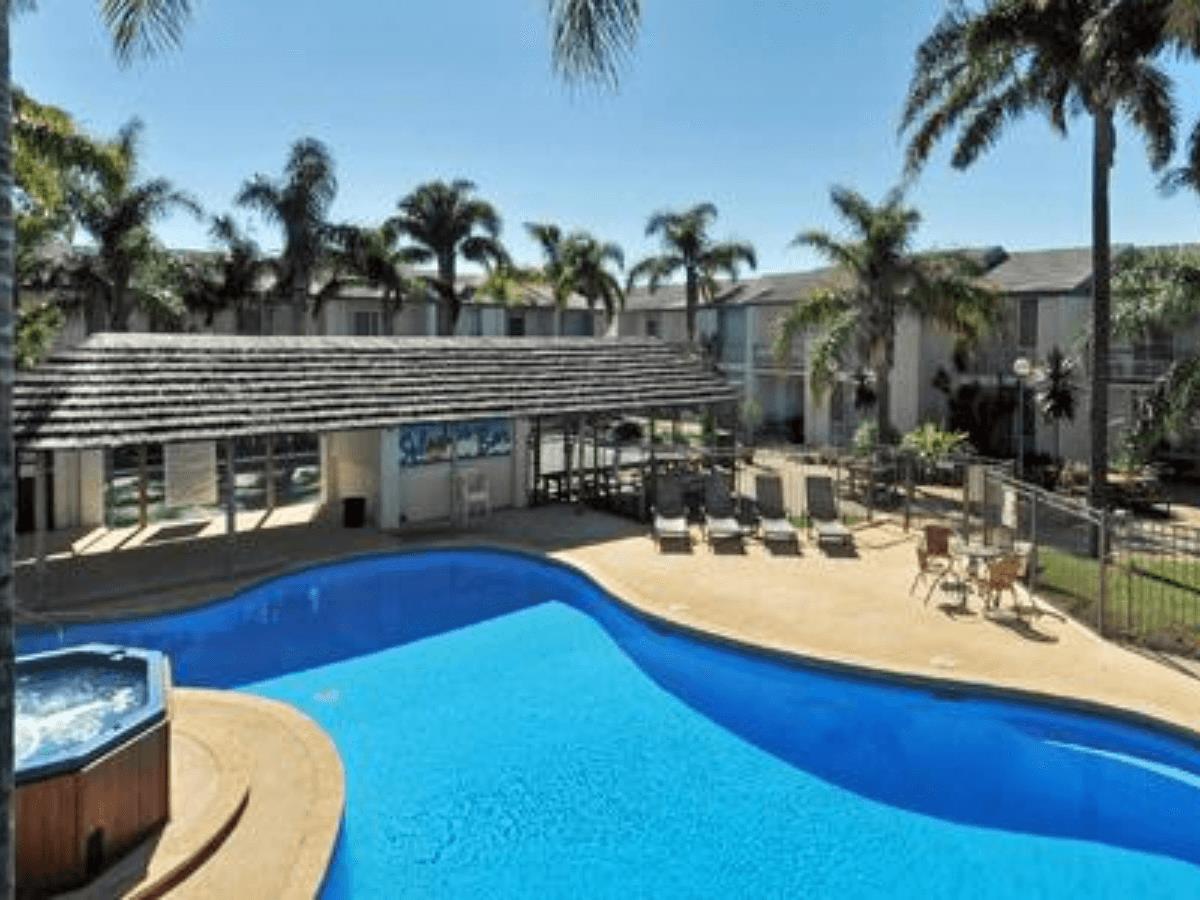 Comfort Inn Crest Mandurah
A "Comfort-Inn-g" Choice for affordable accommodation. Pool, Spa, Tennis, CBD location close to the Beach and Marina.
Details
Capacity:83 Beds
Type:1 - 3 Stars,Backpackers/Hostels,Motel
Facilities:Family Friendly,Pool,Restaurant,Tennis Courts,Wheelchair Access
Description
The Comfort Inn CREST Mandurah is owned by the Crest Hotel Group which is Mandurah's leading accommodation provider with 4 properties in the region. These include 3 new developments at various stages of construction found mostly in the Mandurah Marina precinct.
Comfort Inn CREST Mandurah is Mandurah's leading 3.5 star Hotel with motel rooms and apartments. Located at 110 Mandurah Terrace, the motel is opposite Sunbreakers Restaurant and central to the CBD. As you enter, Comfort Inn CREST Mandurah has a separate motel reception area at the end of the building. Look for the sign!
Room Types
Here at The Comfort Inn CREST Mandurah, we offer an extensive range of accommodation choices, from motel rooms for the over night traveller to fully self-contained family apartments sleeping up to 6 people. And if you're feeling particularly indulgent, try our Executive Spa suites that face directly onto our swimming pool and boast a single person bath with spa jets. Ask for more information about an apartment to suit your needs when we return.
Parking
Bringing your vehicle? Parking is never a problem with large security car parking available at the rear of the property. You can also park your car in front of your room with room to fit a boat.
Dining
Compliment your stay with us by sampling some of the local culinary delights. Mandurah's finest restaurants are all within a short 5 minute walk from our motel and offer a broad selection including Seafood, Chinese, Mexican and Italian. And all your shopping needs are catered for with the CBD and Silver Sands shopping precincts found just down the road. Ask us for more information when we return. Fusion restaurant is now open onsite, offering an intimate ambience overlooking the pool and boasting an exceptional Mediterranean or Indian cuisine.
Facilities
Planning on taking a dip while you're here? Our resort setting is designed around a lagoon pool which come complete with heated spa. If you're looking to continue a exercise routine or to enjoy some fun in the sun, our half court tennis court and mini golf course is sure to keep you busy. All equipment is provided at reception free of charge.
Reception Hours
Arriving after hours? Our normal reception hours are between 8.30am and 5.30pm each day of the week, except Fridays when we are open until 9pm. Let us know if you will be arriving after hours and we will advise you on our late arrival procedure.
Location