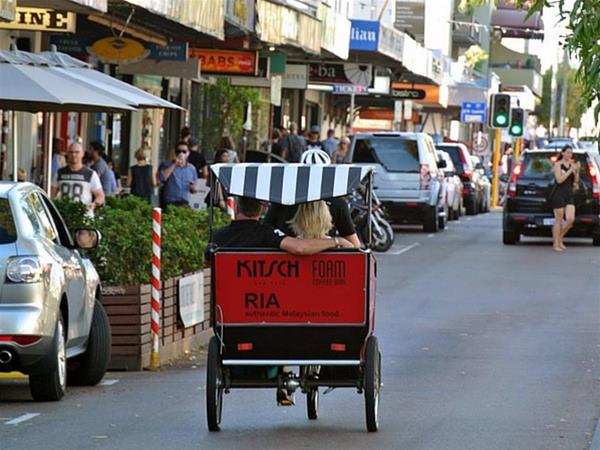 The Leederville Food Safari is the original urban dining adventure, this summer extending from Tuesday through Saturday nights, taking the three-course, tour de force of the suburb's most exclusive eateries and a whole new level. Our rickshaw drivers, urban Sherpas of sorts, are not only adept at navigation but are also a font of knowledge when it comes to the local area – making for a memorable, ambient, amble; touring the burgeoning street art scene and uncovering the hidden Leederville betwe
Details
Description
First rickshaw off the rank is Ria Malay Kitchen, one of Perth's most celebrated Asian restaurants, where guests will partake in Ria's own, choice selection of delicacies for entrée. Our Rickshaw drivers will introduce themselves before they pedal power you to the second stop of the evening for mains.
Next stop: the hot-off-the-wok, all new Kitsch Bar Asia for the ultimate in Asian-fusion where guests will enjoy a mixed selection of the eatery's famed hawker bites and street plates. Choose to share dishes amongst friends or select your own main before you depart Ria.
Step aboard your rickshaw and enjoy the last ride before the evening is capped off in style with petite indulgence at Foam Coffee Bar where guests will enjoy a selection of hand-made, sweet treats and a Five Senses Coffee or tea.
Related
Location
Address: 106 Oxford St,,Leederville,WA,6007
Phone: 0423 506 919
Email: