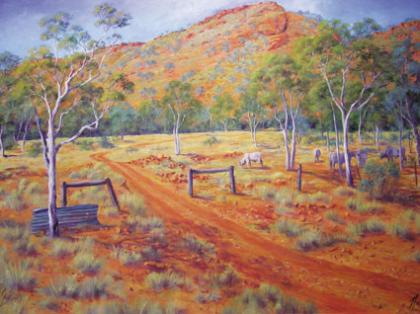 The Kimberley is one of the most isolated regions in the world, comprising an environment of intense colour and texture. Understandably, many of the region's outback artists have made a career out of capturing this rugged beauty on canvas.
Details
Description
Kununurra in the East Kimberley, which has a population of about 6000, is home to more than five commercial galleries. Red Rock Art Gallery owner Kevin Kelly claims the region should be recognised as the "Broken Hill of Western Australia" with its myriad regional art galleries and overwhelming supply of creative talent in the small town. "There is some very modern, contemporary work being done in the East Kimberley and there's a whole new generation (of artists) coming up," Kevin says.
Red Rock Gallery is one of the region's finest, with a modern, contemporary gallery and studio space where the majority of works are produced. The gallery specialises in Kimberley Ochre pieces, although Kevin maintains its not just about indigenous art. Its stable of artists include the estates of world-renowned Rover Thomas, Queenie McKenzie and George Wallaby. Current artists represented by the gallery include Beverley Thomas, Nancy Noonju, Tiger More and Jeanette Dyson.

Waringarri Aboriginal Arts, which is run by the Waringarri Aboriginal Corporation, was the first Aboriginal-owned arts centre in the Kimberley and is the longest-running in Australia. The gallery represents the Mirrawong people of the East Kimberley and was the starting ground for the likes of McKenzie and Thomas. Its senior artists now include Paddy Carlton and Peggy and Alan Griffiths, whose work will be included in an upcoming exhibition at the Woollongibba Gallery in Brisbane in March. A second exhibition of Waringarri artists will involve Minnie Lumai and Daisy Bitting at the Alison Kelly Gallery in Armadale, Melbourne, also in March.

The Diversion Gallery, owned by Kununurra artist Nadeen Lovell, shows only the work of East Kimberley artists, with the exception of two interstate artists who have had a long association with the region. The Gallery's collection comprises mostly realist landscapes by artists including Kimberley Kohan, Peter Mulder, Rebecca Ellett, Al Mason and Lovell, depicting the rugged Kimberley countryside and, in particular, the renowned Bungle Bungle rock formations within the Purnululu National Park.
Nadine's own work, a massive 11m x 1.8m mural of her beloved Bungles, is one of the gallery's most unique features and is permanently on display. Nadine, who has lived in the area for seven years, completed the piece in four months. In 2003, she produced a 4m x 1.8m pen and ink drawing of the Bungle Bungles to commemorate the Park's World Heritage listing.

While the Diversion Gallery houses arguably one of the region's largest works, Our Land Gallery in Kununurra claims to house one of Australia's largest collections of authentic Aboriginal art, including paintings and artefacts. The gallery buys from artists direct, supporting local Aboriginal communities with a direct income.

For those looking for something other than paintings, the Zebra Rock Gallery features a range of products made from the unique Zebra rock, which is thought to be only found in the East Kimberley region. The rock, which dates back 600 million years, gets its name from the striking pattern of bold red bands or spots against a white background.

And if that's not enough for you, a small range of East Kimberley paintings, sculpture and ceramics are also on display at Kimberley Fine Diamonds.

DETAILS:
Diversion Gallery:
Ph (08) 9168 1701
Konkerberry Drive, Kununurra
Opening hours: Monday to Friday 9am-5pm, Saturdays, 9am-2pm.

Red Rock Art Gallery
Ph: (08) 9169 3000
Coolibah Drive, Kununurra
Opening hours:10am-4pm Monday to Friday, or by appointment.

Zebra Rock Gallery:
Ph: (08) 9168 1114
9km out of Kununurra along Packsaddle Road.
Opening hours: 8am-4pm seven days a week.

Our Land Gallery:
Ph: (08) 9168 1881
110 Coolibah Drive, Kununurra
Opening hours: 9am-5pm seven days a week.

Waringarri Arts Corporation:
Ph: (08) 9168 2212
Speargrass Road, Kununurra (opposite Kelly's Knob)
Opening hours: 8.30am-4pm Monday to Friday, or by appointment.

Kimberley Fine Diamonds:
Ph: (08) 9169 1133
93 Konkerberry Drive, Kununurra
9am-5pm Monday to Friday.
Location