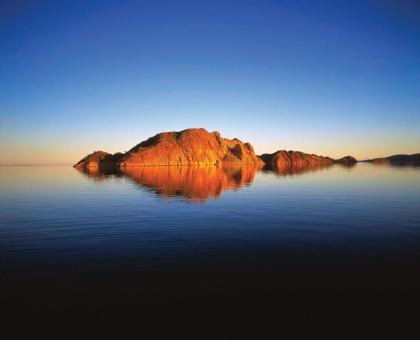 In the remote wilderness of the Kimberley region in far north WA is a magnificent lake set amongst some of the most spectacular scenery on earth.
Details
Description
Lake Argyle is Australia's largest man-made freshwater lake, and is one part of an area rich in history, beauty and world-renowned gems.
You can drive to it, cruise on it and fly over it and although the lake itself encompasses an area of up to 2000 sq km, it is only 70km by road from Kununurra.
Lake Argyle was established in 1971 following the construction of a massive dam wall as part of the Ord River Irrigation Scheme. It now supplies clean freshwater to a thriving agricultural industry and a clean source of energy (hydroelectric) to the East Kimberley region, including the Argyle Diamond Mine.
The lake is a unique ecosystem and home to 25,000 freshwater crocodiles, 26 species of native fish and approximately one third of Australia's bird species that at times, can number in the tens of thousands.
Lake Argyle is a RAMSAR Wetland of international signi?cance for its extremely large number and variety of birdlife. Over 240 species have been recorded on or around the lake. It has become known as one of the best locations in Australia to observe certain sought after species such as the Yellow Chat, Purple Crowned Fairy Wren and the Long Toed Stint.
For those looking to explore the lake, Lake Argyle Cruises operate a variety of excellent cruises that range from $50 per person through to $195.00 per person.

If it's the pioneering history you're intereted in exploring, you might like to visit Durack Homestead.

The area was first settled by Patrick (Patsy) Durack in 1882. Durack was born in Ireland and emigrated in 1853. He was endlessly energetic and quickly established himself as one of the most successful cattle owners in the area. In the early 1880s, after hearing good reports of the Kimberley country, he sent his brother Michael to inspect land on the Ord River. Michael's report was favourable and Durack organised the droving of 7250 breeding cattle and 200 horses to the region. The 3000-mile and three year long trek of cattle from Queensland to stock the Argyle and Ivanhoe stations was, at the time, the longest ever attempted in Australia.

In 1884 they built a homestead, using natural stone boulders for the walls, corrugated iron for the roof and flagstones for the paved verandah. In 1971, to prevent this rare link with history being submerged by the rising waters of Lake Argyle, it was dismantled and now stands, reconstructed, at the Dam Head. Argyle Downs Homestead is one of the best-known and historic examples of early station homesteads in the north-west of Australia. In the gardens are the graves of Vera Durack who died in 1898 at the age of one, Annie Durack who died in 1898 aged 14 and J. J. Durack who died in 1901 aged 48 and two of the station hands.
Not only is the area rich in history and beauty, it harbours one of the world's most successful diamond mines. The Argyle mine is located on the traditional land of the Mirriuwung and Gija people. It is the world's largest supplier of diamonds producing approximately 30 million carats each year.
The diamonds produced by Argyle are found in a range of colours including white and champagne and the mine is the world's primary source of rare pink diamonds. Argyle commenced mining its main ore body in 1985, and has since produced more than 500 million carats of diamonds, ranging from gem quality to near gem and industrial diamonds.
One of the premier tours of this whole area is a day out with Slingair. Fly from Kununurra to the mine for a ground tour of the process plant and the diamond display room as well as lunch. You then fly onto Bungle Bungles before returning to Kununurra and the Ord Irrigation Area spending 20 min over Lake Argyle.
Who can show you Lake Argyle?
Scenic Flights:
Slingair, (08) 9169 1300, slingair.com.au.

Alligator Airways, (08) 9168 1333 alligatorairways.com.au.

Cruises:
Lake Argyle Cruises, (08) 9168 7361, lakeargylecruises.com.
Cruises and Coach Tours:
Triple J Tours, (08) 9168 2682, triplejtours.net.au.
Location