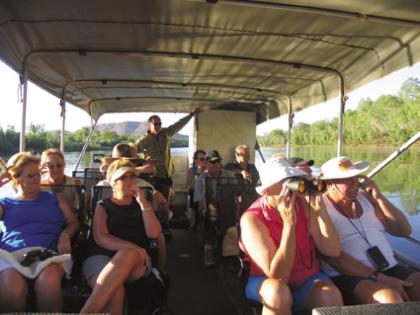 Kununurra is rich in wildlife and scenery and this is no more evident than on the Lower Ord River – a spectacular natural playground for a vast array of birds, huge saltwater crocodiles and other reptiles, including the striking Yellow Spotted Monitor.
Details
Description
The best time to experience the Lower Ord is between April and December, when the heavy wet season rains have eased and levels are back to normal. However, it's a spectacular sight to behold in full flood, particularly from Ivanhoe Crossing.
The 90km stretch of water starts below Kununurra's Diversion Dam, built in 1963 for farming purposes, and finishes in the Wyndham Gulf.
Due to the presence of very large saltwater crocodiles, it's recommended tour-goers experience the area with a guide. The lower Ord is the playground of several tour operators who offer fishing, cruising and wildlife experiences among some of the Kimberley's most beautiful river scenery.
If you want a unique cruise that offers quality commentary, food and an all-encompassing look at this outback area, you may want to try Lower Ord Tours, owned and operated by Ashley and Tamara Cummings who are born and bred locals.
The tour begins in Kununurra with a coach tour through the Ord Valley Irrigation Area. A farmer's son, Ashley provides a brilliant insight into the many crops and farming methods used in the town.
The coach then reaches the boundaries of Carlton Hill Station, owned by media mogul Kerry Packer. A short ride on a dirt road through cattle grazing and boab country brings you to the banks of the Lower Ord and to the oasis that Ashley has built to service his day tour.
A barbecue lunch is provided in surroundings full of inquisitive wildlife, before boarding a 16-seat vessel for a 20km journey upstream. You will see brolgas jabirus, herons, ibis, rainbow bee-eaters, egrets and a multitude of other birds that are quite easy to spot.
The excitement factor really kicks in when saltwater, or estuarine, crocodiles appear. Most of the larger crocs on this river are more than three and a half metres in length. The smaller freshwater crocodile, of which there are dozens, soon seems insignificant as another bend is navigated and a huge 5m crocodile floats only feet away.
Viewing crocodiles in the wild is awesome and completely different to seeing them in a wildlife park. Through binoculars provided by Ashley, guests can gain a better appreciation of these feared predators.
Lower Ord Tours operate in the dry season, generally between April and October, but as the wet season develops, they depend largely on road access to the camp. The tour starts from Kununurra at around 9.30am and returns at around 6pm. Lunch and afternoon tea are provided and the tour costs $125 for adults and $65 for children.
Another way to experience the lower Ord is with a rod in your hand aboard a dinghy. Beginners or diehard fisherman are catered for and both Macka's Barra Camp and Ultimate Adventures offer excellent, quality fishing tours where you're almost guaranteed to pull up an elusive barramundi or two.
While the fishing tours are focused on catching 'the big one', the tour guides are knowledgeable about the area and will fill you in on the flora and fauna along the way. They also understand the behaviour of saltwater crocodiles and won't encroach on the wrong territory – a big bonus in our books.
Both companies offer a full-day fishing expedition for $250 per person. They also offer extended and personalised tours with the added adventure of staying overnight at well-equipped camps located along the lower Ord River.

Book a tour:
Lower Ord Tours, (08) 9169 2143.
Ultimate Adventures, (08) 9168 2310.
Macka's Barra Camp, (08) 9169 1759, mackasbarra.com.au.
Location