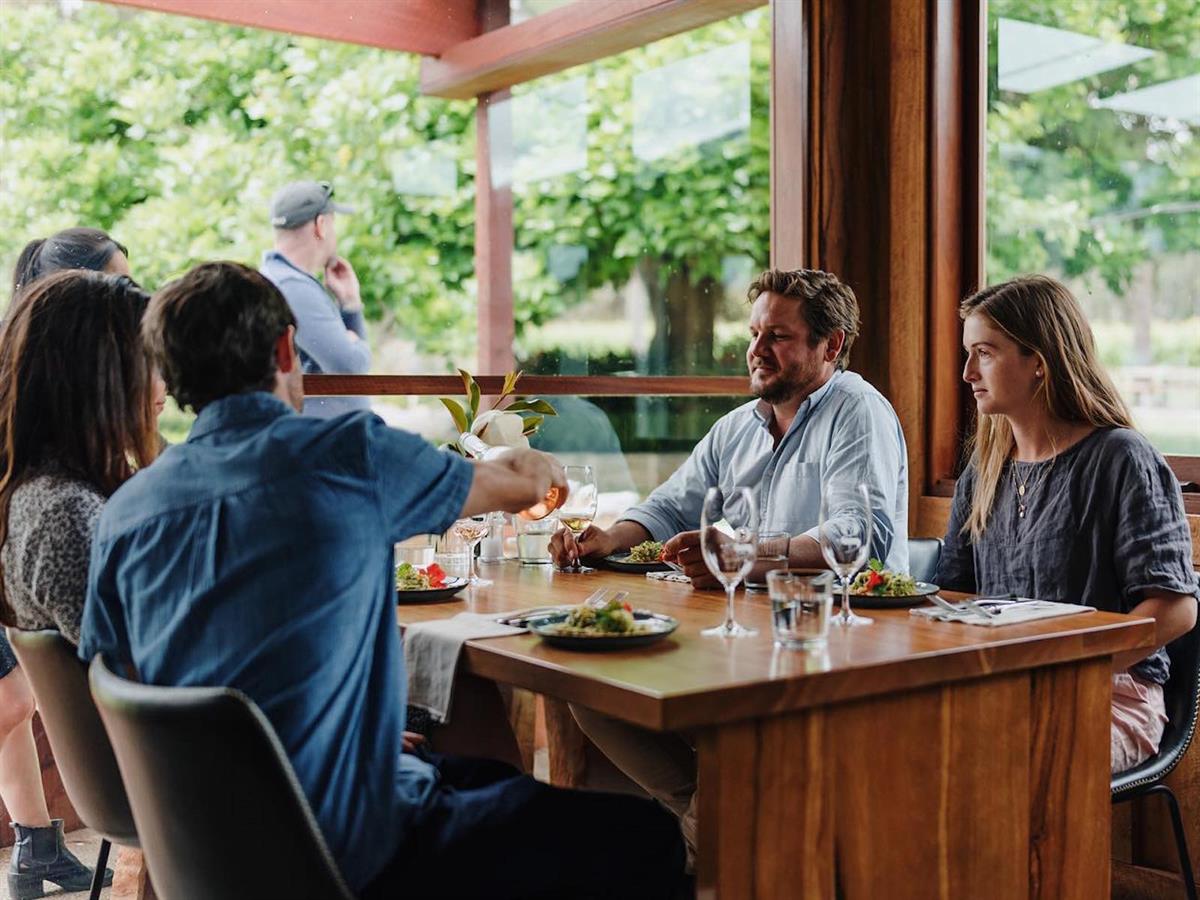 Glenarty Road Restaurant
Experience natural wines that can be enjoyed alongside amazing seasonal farm-grown fruits, nuts, vegetables and lamb in their character-full, timber shed restaurant.
Open Days/times:Farm Feast: Fri to Sun 11:30 - 2:00; Graze: Thur & Mon 11:00 - 2:30
Details
Open Days:Monday,Thursday,Friday,Saturday,Sunday
Lunch:Monday,Thursday,Friday,Saturday,Sunday
Description
Here at the farm we believe in traditional farm house cooking. We pick our produce fresh from the garden daily. We pickle, ferment, braise, bake and cook over our custom wood-fire grill built by Ben.
For us it's all about slowing down to appreciate the taste, presentation and preparation of your food and drink, while taking the time to enjoy and celebrate life with family and friends.
F E A S T
Friday to Sunday 11:30 to 2:00
F A R M | F E A S T
The ultimate Glenarty experience. A three-course feast that celebrates the freshest produce and grass-fed meats from the farm. Alongside, local produce from our neighbours and friends. This menu changes often to reflect life on the farm, following the seasons and the changes that come with them. Our food is cooked over coals on our custom wood-fired grill, to honour the honest and wholesome flavours. *Vegetarian or a vegan options available. Please let us know your preference and any dietaries in the booking notes. Graze + Starters + Mains - $65 per person.
J U N I O R | F A R M | F E A S T
For the younger ones... we created our junior farm feast to inspire the next generation of farmers. With this three-course meal, they will also indulge on our menu that reflects our wholesome and honest flavours. Graze + Starters + Mains - $40 per person.
K I D S | M E A L
A wholesome and nutritious light farm meal for your child. Prepared by our chefs with our freshest vegetables and farm meats to feed your little ones. Main - $15 per person.
G R A Z E
Thursday + Monday 11:00 to 2:30
G L E N A R T Y | G R A Z E
A relaxed day at the farm. Graze the day away with a seasonal spread of house made meats, cheeses, garden pickles, preserves and our famous freshly baked sourdough bread. Our charcuterie is made using the finest free range meats which we handcrafted in our kitchen and age in the wine cellar. *Can be customised to most dietaries. Bookings are recommended.
Related
Location