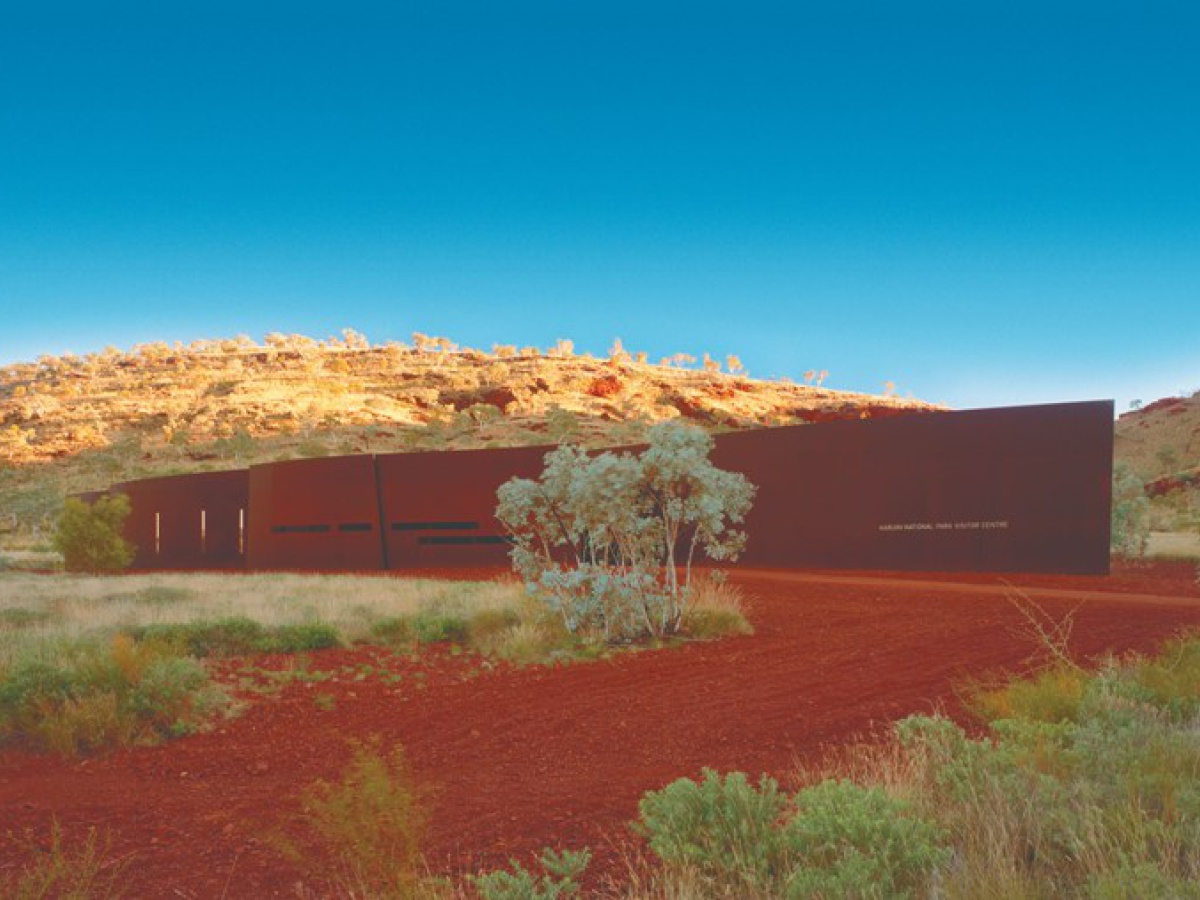 Karijini Visitor Centre
Adjacent to Karijini air strip, the visitor centre is a great place to start your exploration of Karijini National Park. It provides information and interpretation on the natural and cultural history of the park.
Details
Attraction Fee:No fees apply
Feature:Info Shelter,Toilet,Visitor Centre,Dogs Allowed - No,2WD Access - Yes
Water:Untreated
Description
The design of the Karijini Visitor Centre building represents a goanna moving through the country and is symbolic to local Banyjima Aboriginal people. The tail represents their history, the head the future direction of the traditional owners, and Aboriginal Law is in the centre or stomach. The high, weathered steel walls of the visitor centre mimic the sheet-sided gorges that are a feature of the park.
The building is designed to withstand the fires that are a regular feature of the area. The construction materials, lack of openings and minimal places to trap debris, all help reduce the threat of fire entering or damaging the building.
Inside, a range of static and interactive displays take you on a journey of places and people, past and present, through stories of geology, plants, animals and Aboriginal people and their culture.
The centre provides employment opportunities for local Aboriginal people and gives visitors a chance to speak with them and learn about their association with the land.
Getting there
The Visitor Centre is on Banyjima Drive, Karijini National Park. Phone: (08) 9189 8121
Fax: (08) 9189 8113
In season, open 9 am to 4 pm daily.
Closed from early December to early February each year.
Facilities
A telephone, shaded seating area, toilets and showers (including those for people with disabilities) are adjacent to the carpark. The centre itself contains a display area, theatre and shop, which sells film, cold drinks, ice cream and souvenirs.
This information was provided by the Department of Biodiversity, Conservation and Attractions: dpaw.wa.gov.au
Related
Dales Recreation Area Campground
Location
Address: ,Karijini,WA,
Phone:
Email: