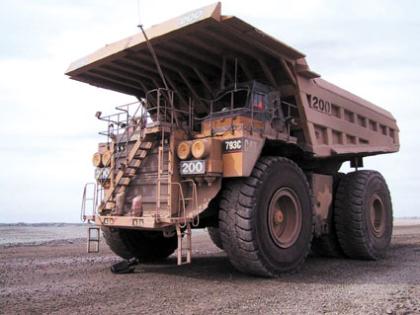 With a reputation for producing a decent slice of Australia's gold bullion, it's not surprising that Kalgoorlie is home to one of the biggest open cut mines in the world.
Type:Attractions
Activity:Mining Site
Suited For:Families
Details
Type:Attractions
Suited For:Families
Description
This massive operation, known as the Super Pit forms part of the 'Golden Mile', reputed to be the richest square mile of gold bearing earth in the world.
Getting up close to the Super Pit is a dwarfing experience. At 320 metres deep, about 3km long and 1.4km wide this massive man made hole in the ground makes an awesome sight.
While it's not possible to enter the pit, which operates 24 hours a day, you can still get a feel for it's enormity from the nearby lookout platform which you'll find just off the Goldfields Highway.
The view is amazing, giant mining trucks with tyres taller than the average person look more like tonka toys as they make their way to the deep base of the mine.
The Super Pit Lookout is open every day from 8am until 9.30pm. Night time viewing is just as spectacular thanks to the massive lighting infrastructure.
You can drive yourself to the Lookout or Goldrush Tours offer a daily two hour History and Heritage trip ($25 for adults, $5 children) which includes a stop at the Super Pit Lookout, as well as visits to some of the historic buildings and streets of Kalgoorlie. Goldrush Tours, 1800 620 440.
If you're not taking the tour, stop in at the Kalgoorlie-Boulder Visitor Centre (ph 9021 1966) for times of daily Super Pit blasts visible from the Lookout.
Location