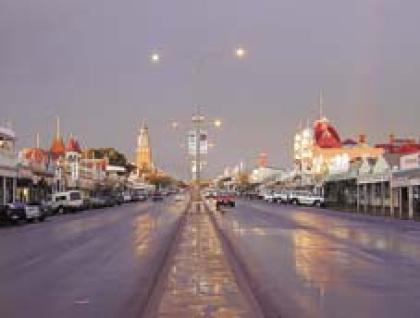 Thanks to the arrival of a new breed of restaurateur, eating out in Kalgoorlie is becoming increasingly sophisticated.
Details
Description
These days, it's not uncommon to find menus in Kalgoorlie featuring tapas, antipasto, freshly shucked oysters and other eclectic fare reminiscent of some of Perth's most fashionable eateries.
The newest kid on the block is The Cornwall in Boulder. Owned and operated by Michael Ford of Fremantle's Harvest Restaurant fame, this place should be near the top of the list if you're visiting the goldfields. The Cornwall occupies a heritage-listed hotel with three main dining areas including a private dining room and a bar where you can order Little Creatures Pale Ale on tap, nibbles and tapas. It's retained an elegant yet casual feel with leather and candles creating a cosy atmosphere, while photos from its former glory days line the walls.
The restaurant prides itself on offering great homemade, bistro-style food. Favourites include porterhouse steak with chips and bearnaise sauce, as well as slow-cooked red duck curry. The beer garden is the place for pizzas, especially on a Sunday afternoon when live jazz music also fires up. The menu is well priced, with tapas starting at $7 a plate, pastas about $20 and main meals about $30. The restaurant is also fully licensed. The Cornwall is open from 6.30pm until late, Tuesday to Saturday.
Saltimbocca in Kalgoorlie is #the place for Italian. The food is deliciously traditional – well cooked and well seasoned. The speciality pasta is the linguine, which is dished up with excellent quality olive oil and seafood. The restaurant's signature dish is its namesake. The saltimbocca is cooked in the traditional way – veal with white wine, sage, cream and prosciutto.
Saltimbocca is in a historic building and the old-world ambience has been preserved with polished floorboards and high, pressed tin ceilings. Italian prints, wooden chairs and white tablecloths give it a stylish feel. This, along with the excellent, well priced food attracts strong crowds most nights. Saltimbocca is open Monday to Saturday for dinner from 6pm until late and is fully licensed.
The owners also run the best coffee shop in town, Barista 202. Located on Hannan Street, this is popular with those seeking a quick caffeine fix before work, as well as visitors looking for a light breakfast or lunch. The speciality is the Italian-style panini, as well as the superb quality and range of coffee. Barista 202 is open Monday to Saturday from 7.30am until 4pm.
The ever-popular Judd's Pub at the Kalgoorlie Hotel is great for a catch up with friends. Judd's Balcony Restaurant is the perfect place to while away an afternoon over lunch and a few bottles of wine. Comfy chairs, white tablecloths and an excellent view over the main street make this one of Kalgoorlie's favourite eateries.
The menu is contemporary Australian, with steak, chicken, fish and pasta dishes proving most popular. Downstairs, the ZeZe Pizza Bar dishes up 12 different styles of wood-fired gourmet pizzas, although the ZeZe Special is a always a winner with jumbo prawns, braised leek, shaved parmesan and garlic cream sauce. Judd's is open daily for lunch and dinner.
Other excellent restaurants include the Palace Hotel, which offers a balcony setting, and the Kalgoorlie Krua Thai for a quick noodle fix.

Make a booking
The Cornwall, 25 Hopkins Street, Boulder, (08) 90932510.
Saltimbocca, 90 Egan Street, Kalgoorlie, (08) 9022 8028.
Barista 202, Hannan Street, Kalgoorlie, (08) 9022 2228.
Judd's Balcony Restaurant, corner Hannan and Wilson Streets, Kalgoorlie, (08) 9021 3046.
The Palace Hotel, corner Hannan and Maritana Streets, Kalgoorlie, (08) 9021 2788.
Kalgoorlie Krua Thai, 84 Hannan Street, Kalgoorlie, (08) 90215227.
Location