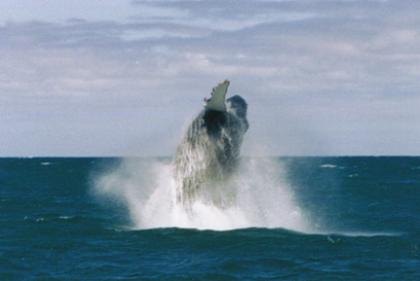 Whether you go out on a boat or simply watch from the shore, magnificent humpback whales provide enchanting entertainment for visitors to Kalbarri.
Details
Description
It's silent on the boat as the passengers scan the ocean, their eyes trained intently on the water. They stand in anticipation, necks craned, waiting to spot white water – a telltale sign there's a humpback whale nearby.
The giant mammal breaks the ocean surface causing the crowd to gasp in astonishment as a fine spray of mist from the whale's blow drifts over them. They are close enough to get a glimpse into the gentle giant's eyes before it dives again, its massive tail the last part to disappear beneath the water.
Welcome to whale watching in Kalbarri – an enchanting experience you'll remember for a lifetime.
Humpback whales travel close to the Kalbarri coast from around July to November each year on their arduous migration to Antarctic waters. In the winter they head to the warmer waters of the state's north where females give birth to their calves.
On their return to the Antarctic, the marine giants travel along the coast ensuring their calves are protected by calmer coastal waters. They adopt a more leisurely pace on their journey south to allow for their calves and are known for their tendency to burst into spectacular aerobatic action.
Kalbarri is becoming particularly well known as a whale watching destination because the whales travel so close to the coast here. There's no need to travel for hours on a boat to reach their migration routes – you can simply stand atop Kalbarri's magnificent coastal gorges to spot the fine spray from their blow or, if you're lucky, see them leap and dive.
Two Kalbarri charter operations, Kalbarri Explorer and Reef Walker, offer whale watching charters during the whale season. They usually spot whales soon after departure and, even if they don't, visitors nevertheless find themselves entranced by the beauty of the Kalbarri coastal gorges.
Kalbarri Explorer operator Bob Mitchell, who runs whale-watching charters from Kalbarri, says people become thoroughly captivated by the spectacular nature of the humpback species. "I've had so many people say it was a once-in-a-lifetime experience," says Bob. "There's just something about the way whales interact with you that is so special. They often seem just as interested in us as we are in them."
Humpback whales are by far the most common species sighted in Kalbarri waters. They grow to around 16m long and weigh up to 45 tonnes. Even a humpback's heart is huge, weighing 195kg.
Humpbacks are also renowned as one of the most musical of the whale species. They have a range of hauntingly beautiful songs, thought to be for mating or hunting purposes.
Even without these amazing attributes, there is something so enchantingly special about a close up encounter with a whale. Maybe it's their size, or their intelligence. Whatever the case, you can be sure a meeting with these amazing creatures will be something you'll remember for life.
For more information contact Kalbarri Explorer on (08) 9937 2027, Reef Walker on (08) 9937 1356 or the Kalbarri Visitor Centre on (08) 9937 1104.
Location