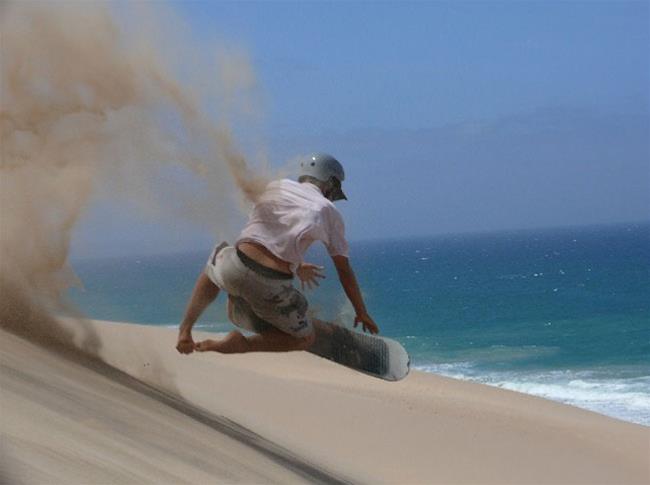 For an experience that combines breathtaking ocean views with adrenalin-pumping adventure, try a sand-boarding tour in Kalbarri.
Details
Description
Imagine yourself at the top of a mountainous sand dune, sandboard positioned under your belly and metre upon metre of sheer dune face plummeting to the depths of the crevice below. Urged on by your fellow sandboarders you push off and begin careering rapidly down the dune's face. Soon, terror is replaced by exhilaration as you speed your way to the bottom. And then, collapsing in an unceremonious heap of giggles, you land safely at the dune's base.
Welcome to Kalbarri Sandboarding – an exhilarating mix of energetic action and strikingly beautiful landscapes.
Kalbarri Sandboarding's Ian Hornhardt takes groups of up to 20 people on sandboarding tours from Kalbarri. He picks up his fellow sandboarders in his 4WD bus at about 7.45am and begins the 40-minute trek to a series of mountainous sand dunes at a secluded beach called Lucky Bay.
The scenery here alone is enough to warrant a visit. Towering dunes stretch before you in sensuous curves, fascinating designs and ever-changing interplays of shadow and light. The brilliant white scene is particularly spectacular set against the deep blue of the sky and the sparkling blues of the ocean nearby.
Ian begins the day here with a drive across the dunes and explains how their mammoth size and unusually sheer faces were formed. "The dunes are built on a fresh water aquifer and the moisture soaks up through the sand dunes to hold them in place," Ian says. "That's what gives the dunes their really sharp angles and helps form the razorbacks."
Next, Ian will take you to a medium-sized dune where he'll provide you with a board, a helmet and bring you up to speed on sandboarding techniques. This initial experience results in some hilarious action and really whets the appetite for what's to come.
After some morning tea you'll head to the Superbowl – an enormous razorback dune. Here, laying on the board on your belly for maximum safety, you'll career down the dune's face at speeds reaching 80km an hour. Of course, climbing back up the dune is remarkably slower and means you're soon well and truly ready for the next part of the agenda – a swim and a snorkel, if you're keen, and some well-earned lunch. This area of beach is so little known that you'll often find your group in total privacy – just you and your sandboarding friends on a pristine stretch of magnificent coast.
Following lunch, you're ready to hit the dunes once more and continue perfecting your technique on another medium-sized dune before finally, at about 2.30pm, you drag your tired body back onto the bus for the journey home.
This increasingly popular tour costs $75 for adults, $65 for children under 15, and is free for kids under five (Ian says people aged from four to 72 have taken the sandboarding plunge).
While morning tea and your sandboarding gear are provided, you'll need to bring your own water and lunch. And don't forget your sun protection and a camera too. With all this in hand you're set for some serious sandboarding fun.
Location