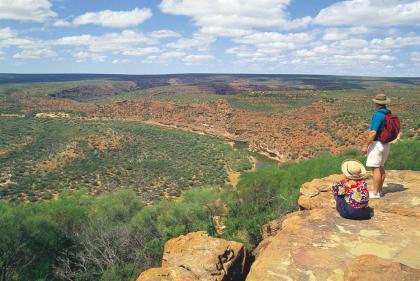 Grab your hiking boots and fill your water bottles for a hiking adventure through the spectacular Kalbarri National Park Gorges.
Details
Description
The 184,000ha mass of red earth, colourful wildflowers and pounding sea cliffs make Kalbarri one of the State's premier destinations for an action-packed holiday. If you have a love of adventure and a will to succeed, then a hike through the towering Kalbarri National Park Gorges is sure to be an exciting challenge.

Carving a path through the national park is the twisting 80km Murchison River, which flows into the ocean at the Kalbarri township. Over millions of years, the river, wind and waves have created towering gorges of red and white-banded rock. You can get a good view of the gorges by taking a dirt road drive into the park, where you'll find a couple of breathtaking lookouts such as The Loop, The Z Bend, Hawks Head and Ross Graham Lookout.

At The Loop there are several lookouts that give different perspectives of the river. Nature's Window is the best-known attraction here with its natural rock arch perfectly framing the upstream view. The Z Bend is a rock lookout that overhangs the river at the end of a moderately easy 500m walk. Hawks Head is a popular picnic area in the park, with glorious views of the gorge, and at the Ross Graham Lookout, the gorge below is relatively shallow so visitors can easily wander down to the river pools.

If you're short on time, the Loop and Hawks Head are the ones to check out, with signs marking the short walks from nearby car parks. While walking to these spots isn't difficult and will suit all fitness levels, it's recommended you wear good walking shoes.

If you're fit and time isn't a problem, hiking and walking trails through the park give some great views and get you up close to nature. The Mushroom Rock Nature Trail is an easy two-hour return walk that's perfect for nature lovers, as signs along the way explain the area's botanical and geological features.

For more serious exercise, there are longer hikes that aren't marked but are worth the effort. The six-hour Around the Loop walk begins and ends at Nature's Window, taking in cliff tops and descending into the gorge itself. Another long hike is The Coastal Trail – a three to five-hour one-way 8km hike along the top of sea cliffs between Eagle Gorge and Natural Bridge. The red cliff faces and wild ocean swells make this walk an exhilarating experience.

Anyone doing a longer hike is recommended to join a group of at least five people and notify a park ranger if you're planning on camping overnight.

For those looking for a guided tour, there are numerous local operators who run day trips and camping tours into the park. Not only do these tours include bush walking and gorge hiking, but also canoeing, swimming and rock climbing. During the flood season around April, ocean-to-outback canoe adventures are also on offer and combine hiking through the gorges with hair-raising trips down the rapids and camping under the stars.

Who can show you how?
Kalbarri Adventure Tours, Kalbarri Coach Tours and Kalbarri Safari Tours are three operators that run specific gorge treks in the Kalbarri National Park.
All companies pick you up from your accommodation and drive you to the Park, where you'll be taken by a guide to some of the most spectacular features, including the famous gorges and the gullies and streams that flow into them. After the treks, tour-goers normally cool off with a rewarding swim in the river below.

Kalbarri Adventure Tours offers a full-day trek that involves 8-10km of hiking and canoeing, and costs $65. You'll be picked up from your accommodation at 8am and returned at 3.30pm.

Kalbarri Safari Tours offers a full-day Z Bend and Beyond hiking tour, which also costs $65 and runs from 8am to 3.30pm.

For those who want to take it a bit easy, Kalbarri Coach Tours offers four-hour bus tours of The Loop and Z Bend, which require minimal walking and are therefore more suitable for senior visitors. Prices are $44 for adults or $39 for seniors.

Bookings for all tour companies can be made through the Kalbarri Visitor Centre on 1800 639 468 or by calling the company direct.

Contacts:
Kalbarri Safari Tours, (08) 9937 1011.
Kalbarri Adventure Tours, (08) 9937 1677.
Kalbarri Coach Tours, (08) 9937 1161.
Location