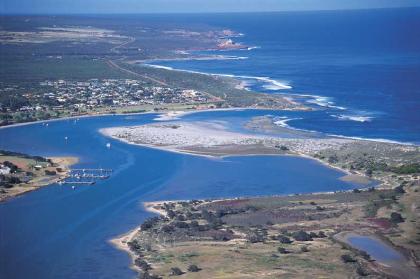 Kalbarri has some of the best deep-sea fishing in the world. Head north and get your line wet this summer.
Details
Description
Located between the warmer waters of Exmouth and the cooler waters of Perth, Kalbarri offers anglers the chance to enjoy the best of both worlds and catch fish from both climates. Some of the fish often caught include dhufish, coral trout, red emperor, spanish mackerel, yellowfin tuna and dolphin fish.

Rob from Reef Walker Adventure Tours has been operating his fishing trips for over 10 years and has never come home from a trip empty handed. Some of the bigger fish to cross his bow have included a 75kg yellowfin tuna and a 15kg dhufish. If you think that this sounds like the kind of fish you'd like to snag, then you'll have to be up early on your day of departure to make the most of the morning before the sea breeze comes in around lunchtime. Rob supplies a variety of gear on board from large game rods to hand lines, so all you need to bring is your hat, sunscreen, food and drink for the six-hour trip.

Kalbarri Explorer Ocean Charters also offer a deep-sea charter service. Bob and his crew head out around 20-40km offshore where they regularly encounter strong fighting fish such as spanish mackerel and yellowfin tuna as well as other prize fish like red emperor, pink snapper, baldchin groper and dhufish. The crew can help anglers of all skill levels and all bait, tackle and gear is provided so if your hooks are a bit rusty there's no need to worry. They will also fillet and freeze the fish you catch so it's just a matter of remembering some food for the day and to slip, slop, slap.

If you're dying to kit yourself up with some fishing gear, there are a couple of places in town that can help you out. Kalbarri Sports and Dive and Kalbarri Marine and Hardware stock a range of tackle, bait, reels, rods and lures. Both shops are located in the centre of town so you won't have to go far between them and the water.
Location