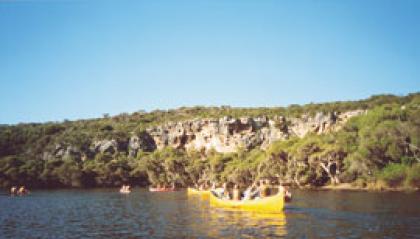 Kalbarri offers guests gentle canoeing opportunities through majestic gorges and down the lower reaches of the Murchison River.
Details
Description

Distance from Perth: 589km N
How to get there: by road: from 5 1/2 to 6hrs.
Average min temp: 28.2°C
Average max temp: 14°C
Average monthly rainfall: 8.2mm
No. rainy days: 8
Reference: scooptraveller.com.au

Canoe tour operators
Kalbarri Adventure Tours 9937 1677
Kalbarri Boat Hire and Canoe Safari 9937 1245

Kalbarri offers guests gentle canoeing opportunities through majestic gorges and down the lower reaches of the Murchison River.

Kalbarri is located at the mouth of the Murchison River in the State's Mid West. It is surrounded by long white beaches and the vast Kalbarri National Park with its stunning red and white banded gorges. Outdoor adventure activities are possible year round but if you're looking to give canoeing a go, you'd better head up this season before the water levels along the Murchison fall too low.

Davo Waite from Kalbarri Adventure Tours runs a full day tour combining a canoe through the gorges with hiking through the National Park visiting some of the most popular lookouts along the way. The Murchison River has cut 80km of gorges through the middle of the Kalbarri National Park. Davo's tour is the only one in the region that canoes a section of the river called Four Ways, which is only accessible by hiking for an hour and a quarter through the Park until you arrive at the canoes. After a lunch break guests enjoy a 90 minute, 6km paddle along a smooth stretch of river.

You cover 9km, excluding road travel, during the day, and the tour is run at a gentle pace. Davo is a grade one ambulance driver and carries a complete first aid kit and satellite phone for emergencies. He also supplies guests will all transport, morning tea, entry fees into the park, canoes, water resistant containers for valuables and can even supply back packs if necessary. You will be required to wear protective shoes and supply your own lunch, water, hat, sunscreen, and swimming gear.

If your looking for a tour that purely focuses on canoeing, Fred Williams from Kalbarri Boat Hire and Canoe Safari runs a half day adventure on the lower reaches of the Murchison River including a barbecue breakfast. Gregory Rocks is located 20km out of town and is the furthermost point canoes can paddle before the spring water levels become too low. Fred drives you out to this point where you begin a 3km paddle followed by breakfast.

Fred drives his vehicle along the riverbank at all times so if you've had enough you can pull out and drive the rest of the way. A strong sea breeze comes in as early as 10am, slowing paddlers down when they turn the south bend about 13km out of town. The river flows at an easy pace, making the tour gentle and safe for families and newcomers to canoeing. The tour includes breakfast and all transport including canoes, but you will be required to bring some water, hat, sunscreen, swimming gear and wear old shoes which you don't mind getting wet.

If you'd rather go at you own pace, Fred has canoes for hire but you're restricted to canoeing in the bay area. If you'd like to paddle up to Gregory's Rock and back on your own you will have to supply your own canoe, which you can hire in Perth and transport up to Kalbarri.

OTHER STUFF:
Kalbarri is the Mid West's premier resort town. You will find operator's offering outdoor tours from sandboarding and four-wheel driving to fishing and whale watching. Accommodation ranges from 4-star resorts through to budget and back-packer s but as Kalbarri is such a popular holiday destination it is necessary to book early. Visit scooptraveller.com.au for more information on Kalbarri accommodation and attractions.
Location