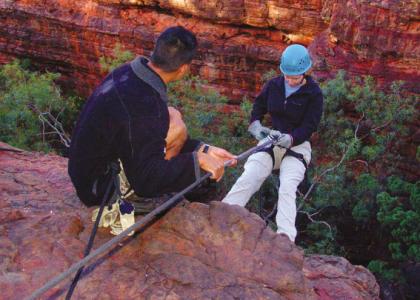 For an adrenalin-pumping way of experiencing the gorges around Kalbarri, join an abseiling tour.
Details
Description
You're precariously perched atop a towering cliff face, the only sounds the birds flitting through the bushes close by and the river rushing somewhere far below.
Inching closer to the edge, your breath quickens and the coaxing voice of your guide urges you on. "That's it, you can do it, slowly, carefully, you've got it, off you go."
Then, before you know it, you're over the edge of the cliff face and a sense of exhilaration envelops you. You whoop with the sheer joy of it all, the sound of your cheer echoing off the gorge walls nearby.
Within seconds you've descended and the group waiting below joins your cheers with cries of congratulations and rounds of applause.
Bristling with pride and sporting a smile a mile wide, you gaze up to the instructor above. And even from far below you can see the size of his grin and the congratulatory thumbs up sign.
Welcome to abseiling in Kalbarri – an exhilarating and alternative way of experiencing the magnificent Kalbarri river gorges.
Kalbarri Abseil's Rob McClintock takes groups of two and above to the stunning Z-Bend gorge in Kalbarri National Park for half-day abseiling tours. Setting off from Kalbarri in the morning, Rob and his fun-loving offsider Nick Chong bus you to the gorge known as The Loop to admire the much-photographed Nature's Window. Here you'll also view prehistoric scorpion tracks and be taught about this ancient landscape's native flora and fauna.
Next, you'll head to the Z-Bend gorge, where you'll disembark and walk deep into the gorge's heart. Along the way, you can stop to admire and photograph the scenery, all the while preparing yourself for the nerve-wracking adventure to come.
Within 20 minutes of leaving the bus you're at the abseil site and, after a demonstration and safety talk, it's time to give it a go. For some it's a matter of bounding off the 23m cliff-face without so much as a second thought, but for others it's a case of serious soul searching for that extra piece of courage to get over the edge.
However, once you've succeeded, it's impossible not to get caught up in the rush. Soon you'll find yourself bounding out from the cliff face on your descent, trying a forward descent and then, for the truly adventurous, you might try descending upside down!
Though many participants initially doubt their ability to pull it off, Rob says few people fail to take the plunge. "Most people absolutely love it," he says. "Maybe one or two percent back out, but otherwise people really surprise themselves. And if they're really hesitant we can always take them to a smaller cliff face to practise for a start."
Following three backwards descents and two forwards, Rob and Nick will lead you deeper into the gorge for lunch and a swim in the cooling waters. You take your own lunch, but the tour provides morning tea and all your equipment. Aside from that, all you need is some sturdy walking shoes and a sense of adventure.
Abseil tours cost $75 for adults and $65 for children under 12. Call (08) 9937 1618 or email
[email protected]
for details.
Location