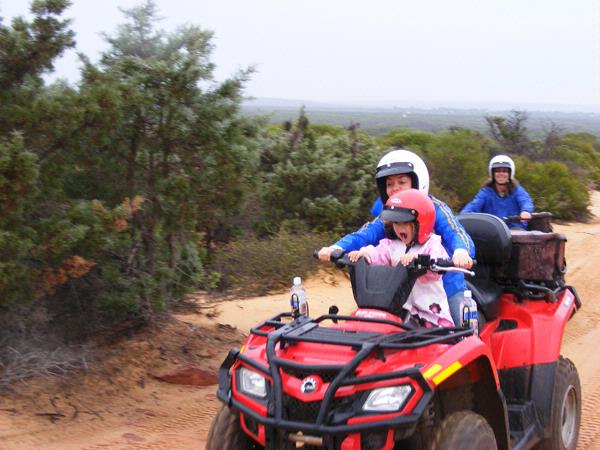 Kalbarri Quadbike Safaris
The only wholly bush based quadbike safari in W.A. is an exciting way to experience beautiful scenery and being close to nature in the Australian Outback.
Tour Duration:From 1.5 Hours
Tour Price:From $80
Type:Tours
Activity:Quad Biking
Suited For:Teens (13 - 17),Adults (18+)
Details
Tour Locations:Safaris leave from Murchison House Station.
Type:Tours
Suited For:Teens (13 - 17),Adults (18+)
Description
Our aim is that every customer is safe on safaris and has an unforgettable experience for all the right reasons.
Where do the quadbike safaris go?
License arrangements allow for safaris to tour through the Murchison River Reserve (town side of the river), and also onto the Murchison House Station Pastoral Lease, on the north side of the river. All safaris start from Murchison House Station, located 12km from Kalbarri on the Ajana-Kalbarri Road.
The terrain and scenery varies throughout the safari and is also influenced by the seasons.
How long are the safaris?
There are three safaris available: Mini adventure, Adventure and Maxi Adventure, and the duration is one hour, two hours, and four and a half hours respectively. The most popular safari is the two hour Adventure Safari which can either go to the River Reserve or the Murchison House Station Pastoral Lands. The Mini adventure safari gives people a taste of what it is like to ride a quadbike and takes in some beautiful scenery as well. The Maxi Adventure itinerary is flexible, but usually takes in both the River Reserve and the Station. These safaris are suitable for people who have never ridden a quadbike before.
Kalbarri Quadbike Safaris is also happy to arrange customized safaris, so please feel free to discuss your ideas.
Who will enjoy it?
Quadbike adventures can be enjoyed by people of all ages, experience and confidence. All bikes can seat two adults and children from as young as four can sit on the passenger seat.
The driver of the quadbike must have a drivers license and be at least 18 years old.
Quadbikes are dual seat CanAm Outlander Max 400cc, and have automatic gears. Everyone must wear a helmet.
Riders who are driving the quadbike must be able to sit upright, unsupported, and be able to flex their legs, that is, be able to sit astride on a chair. Riders need full use of their arms and hands. Passengers require a similar level of ability.
Each safari starts with instructions about the safe handling of the quadbike, and this is followed up by a familiarization ride, during which all riders are closely supervised. Safety is the priority, and riders are coached and encouraged during the initial phases of the safari. Of course, some people will take longer to feel confident that others, but it is surprising how quickly even the most nervous riders gain confidence and enjoy the whole experience.
Kalbarri Quadbike Safaris will appeal to individuals, couples, families, and corporate groups.
Refreshments are provided on each safari, and water is supplied. Customers are asked to wear sunglasses, shoes, long legged shorts or pants, sun and insect protection, and to bring their cameras. We may have time for a swim on longer safaris in the hot weather.
Bookings are essential, and advance bookings are recommended for peak times such as school holidays and long weekends. Contact Ellen and Martin on 99371011 any day.
Location
Address: Murchison House Station,Kalbarri,WA,6536
Phone: (08) 9937 1011
Email: [email protected]