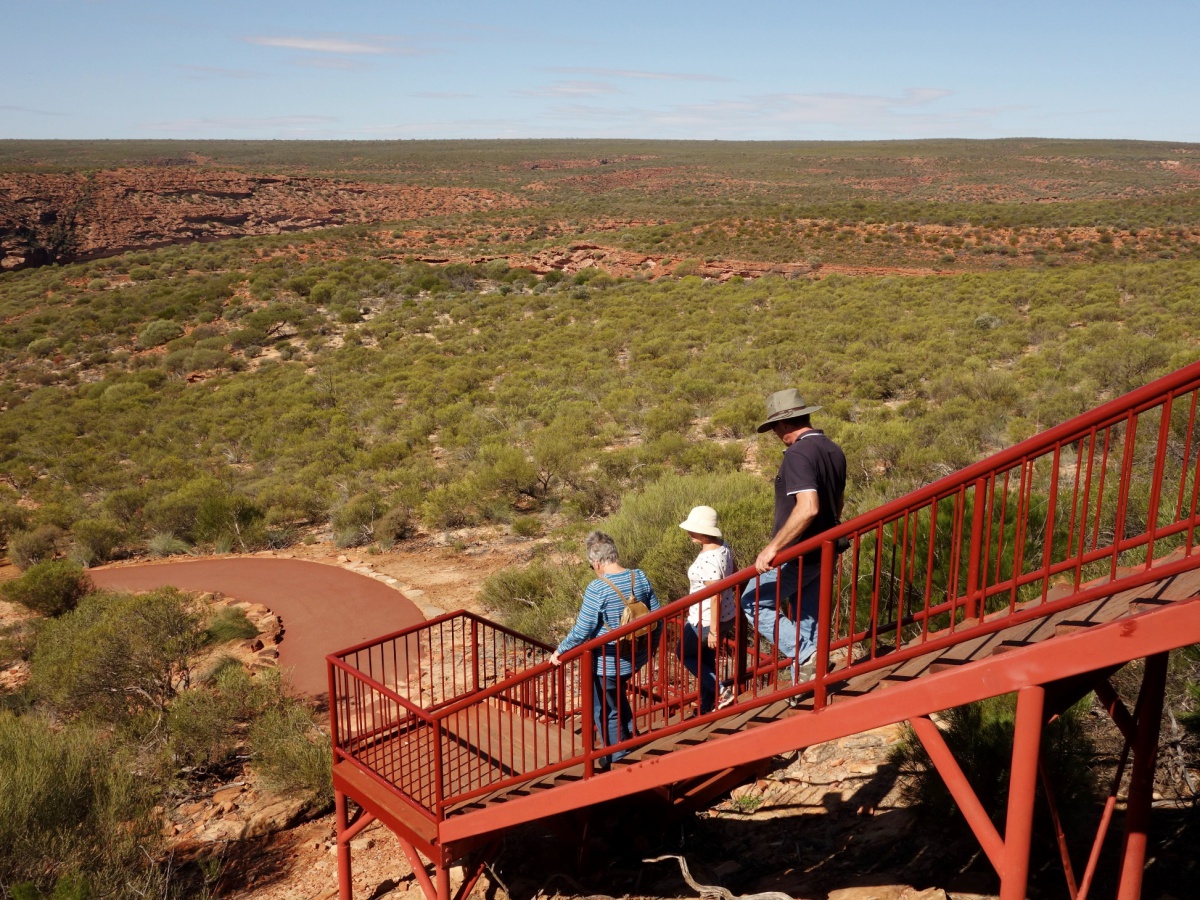 Loop / Natures Window
Vantage points far above the river provide dramatic views in every direction.
Details
Attraction Fee:No fees apply
Sites:Walking & Hiking Trails,Lookouts
Feature:Toilet,Lookout / Deck,Dogs Allowed - No,2WD Access - Yes
Activity:Bush Walking
Description
There are excellent lookouts, shaded seating areas and walk trail options, close to the car park and further afield.
The Loop
The geology of the area is fascinating. The thinly bedded, red and white banded rocks through most of the river gorge were deposited millions of years ago on tidal flats. Rippled surfaces can be seen around Nature's Window. The ripples were formed during ancient times by waves moving over tidal flats in a shallow sea.
Some rock layers in overhangs at The Loop look as if they have been riddled by plant roots. These are actually fossilised burrows left by ancient worms that once sheltered in the sand. Tracks and trails on flat surfaces show where animals crawled across the damp sedimentary surface.
Nature's Window
This iconic attraction is a wind-eroded opening in the layered sandstone that frames a view of the river. It is a moderate, one-kilometre return walk beginning with a flight of stairs from the lookout at the carpark. Views of the gorge are available from the sealed path and lookouts before the final, rocky section.
Please be careful near edges and avoid climbing on the fragile rock in or above the window.
Distance: 1km return Time: 30-45 minutes Difficulty: Class 3
The Loop Trail
Keen and well prepared walkers can continue further into the gorge system and complete the Loop Trail – a challenging but spectacular walk over both rocky and sandy terrain. Along the way you'll pass vantage points that provide different perspectives on the switchback course of the Murchison River. There is no drinking water and limited shade along the trail.
Temperatures along this walk can reach 50C in summer. It is recommended that you plan your hike for the cooler months (May to October) and avoid this hike in hot weather. The Loop Trail is closed after 7am from November to March inclusive. Be prepared - carry and drink 3 to 4 litres of water per person per day, wear a hat, loose clothing and sturdy footwear. Hike with a companion and tell someone where you are going.
To find out more visit TrailsWA.
Distance: 9km Time: Allow 3-5 hours Difficulty: Class 4
This information was provided by the Department of Biodiversity, Conservation and Attractions: dpaw.wa.gov.au
Events
Related
Shell House And Grandstand Rock Gorge
Natural Bridge - Castle Cove
Loop/Z-Bend Entry Station
Hawk's Head-Ross Graham Entry Station
Location
Address: ,Kalbarri National Park,WA,
Phone:
Email: