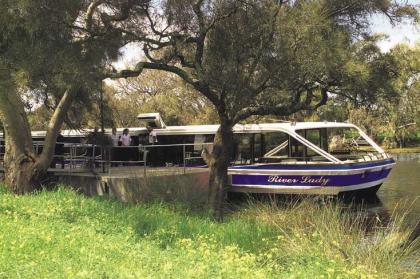 Taste wine and cheeses, enjoy three course lunches and tour some of the finest and oldest wineries in the State on a river cruise to the Swan Valley.
Details
Description
The Swan Valley was one of the first areas of Perth to be settled due its location in the stunning upper reaches of the Swan River and fertile soil. Home to fine wineries, historic buildings and some of Perth's most picturesque scenery, the best way to check out the Valley and stay cool is in one of the luxurious, purpose-built river ferries.

Captain Cook Cruises offer a range of scenic and highly entertaining river cruises to the Swan Valley. Perth's Famous Wine Cruise has been gliding up the Swan for over 20 years, delighting guests with informative commentary, live entertainment, wine tastings at Houghton Winery and Sandalford Estate and a buffet lunch at the stunning Mulberry on Swan. On board you'll taste a selection of premium Western Australian wines and snack on cheese while your captain provides a running commentary on the riverside attractions along the way. This full day tour is available seven days a week, departing from the Barrack Street Jetty.

If you're a little pushed for time, Captain Cook's Olive Farm Lunch Cruise is a half-day tour that heads up the river to Olive Farm Winery. Guests enjoy a buffet lunch with wine, while cruising up the river on board a luxuriously appointed river boat. Stopping at Olive Farm for premium wine tasting at WA's oldest underground cellar, this cruise is only 3 hours and 45 minutes in duration and makes for a relaxing afternoon in the Valley. Visit captaincookcruises.com.au for more information.

If you're looking for pure luxury with a little bit of wine appreciation thrown in for good measure, you may like to take a tour on the lavish Miss Sandalford. On board this floating lounge, guests can enjoy percolated coffee and petit fours, and get to taste premium Sandalford wines and gourmet cheeses while receiving a tutorial in wine appreciation. Once at Sandalford, guests receive a tour of the operational winery followed by a three-course lunch matched with premium wines before heading back to the city. The Miss Sandalford departs from the Barrack Street Jetty on Wednesdays and Sundays. Check out sandlaford.com for more information.

Those wanting to venture further inland might like to consider Swan Valley Tour's day tour with cruise. Departing early at 9.45 on one of Captain Cook Cruise's river ferries, guests enjoy wine tasting and morning tea before disembarking at Sandlaford Winery for more tastings. From there, you travel by coach to Jane Brook for lunch and wine tasting, Garbin Estate, Yeltrah Gallery, the Swan Valley Cheese Factory, Feral Brewery, Oggie's Ice Cream Cafe and the Margaret River Chocolate Factory before travelling home via coach. This tour is perfect for those looking for a hassle-free way to visit some of the valley's stand out attractions. Go to svtours.com.au for further details.

Oceanic Cruises invite you to travel up-river on their brand new luxurious river ferry, Queen of the Valley, enjoying complimentary wine along the way. Leaving from the Barrack Street jetty at 11am, this is a great option for those who like to sleep in. You're immediately served a buffet lunch, and once in the Swan Valley you disembark in Guildford and spend a couple of hours tasting wines at Houghton Winery and Riverbank Estate. You'll then spend the rest of the day drinking wine and snacking on cheese, dried fruit and crackers as you head back down the river. Visit oceaniccruises.com.au for more information.

OTHER STUFF:
Summer is a great time to dine alfresco at some of the Valley's excellent restaurants and cafes, or heading to some of the 30 odd wineries in the area where you can sample crisp summer styles like Chenin Blanc and Verdelho.
Location