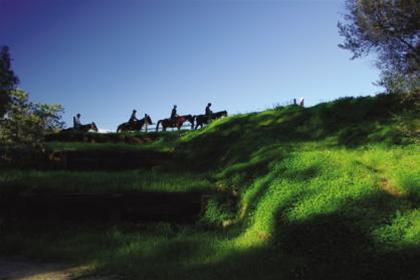 Famous for its wineries and galleries, the Swan Valley also offers many child-friendly activities making it the perfect spot for a family escape
Details
Description
The River Retreat presents the best of both worlds – plenty of action for the kids, as well as a peaceful and restful environment for parents to relax over a glass or two of the valley's best. The property runs special eco-farm activities during school holidays. Surprise your kids by showing them that eggs really do come from chickens. They'll also learn more about the natural environment, collecting native seeds, nuts and grasses to use in art and craft sessions.

There is a range of accommodation available including self-contained villas, perfect for families. A swimming pool is also popular with the kids, while other facilities include a restaurant, barbecues, an Aboriginal gallery and cultural performances.

Right next door is Swan Valley Oasis Resort, home to Supa Golf. With oversized clubs and golf balls, this is great fun for anyone aged six and above. The 900-metre course features obstacles such as water traps, sand bunkers and trees. Swan Valley Oasis is open seven days a week and prices start at $10 for adults and $8 for kids.

Nothing goes down better on a family holiday than a sweet treat, and the Swan Valley is teaming with delicious temptations.

You can't go past the Margaret River Chocolate Company without stopping in for a free taste test. There is also a mouth-watering range of choc-infused delights including chocolate bars, choc-coated sweets, ice creams and cakes. Children will love the interactive displays and viewing windows that allow you see exactly how all those goodies are made. While the chocolate making process transfixes the kids, parents can pull up a chair at the cafe and enjoy a coffee. Margaret River Chocolate Company is open seven days from 9am until 5pm and entry is free.

The newly opened family-run Mondo Nougat is also well worth a stop. From the special viewing area, you can watch the nougat production process. Free tastings are offered, giving you the opportunity to try before you buy. Home made Italian cakes, biscuits and gelati are also available from the coffee shop. Guided tours of the factory are available but you need to book ahead. Mondo Nougat is open Tuesday to Sunday and it's free to browse.

Another new nougat outlet is Charlie's Estate. There are five varieties of nougat available, which are freshly packed on the premises. Free tastings are available and there's a cafe and grassed area for the children. And for the parents, Charlie's Estate's full range of wines is also available for tasting. Charlie's Estate is open seven days a week.

To work off some of that gourmet indulgence, Brookleigh Estate offers all sorts of horse riding experiences. You can stay onsite in chateau-style or bunk house accommodation and enjoy group horse riding tuition, or there are day camps, picnic sites and trail rides.

Horse riding lessons are suitable for all skill levels and are offered on a private or group basis. Mid-week group lessons start at $53 per 40 to 60-minute session. You'll need to wear appropriate riding clothing including flat closed-in shoes and long pants, but helmets are supplied.

School holiday day camps include lessons, a trail ride and a chance to learn about horse grooming. Residential camps are also available. The day camp costs $115 while a five-day, four night course costs $630.

The Swan Valley has many other family friendly operations including Maze n Koalas in Bullsbrook and Whiteman Park – home to Caversham Wildlife Park.

– Sue Waters

Who to call
Charlie's Estate, (08) 9296 3100.
Mondo Nougat, (08) 9296 0111.
The River Retreat, (08) 9296 1007.
Margaret River Chocolate Company, (08) 9250 1588.
Brookleigh Equestrian Estate, (08) 9296 2601.
Caversham Wildlife Park, (08) 9248 1984.
Supa Golf, Swan Valley Oasis, (08) 9296 5566.
Maze n Koalas, (08) 9571 1375.
Whiteman Park, (08) 9248 1984.
Location