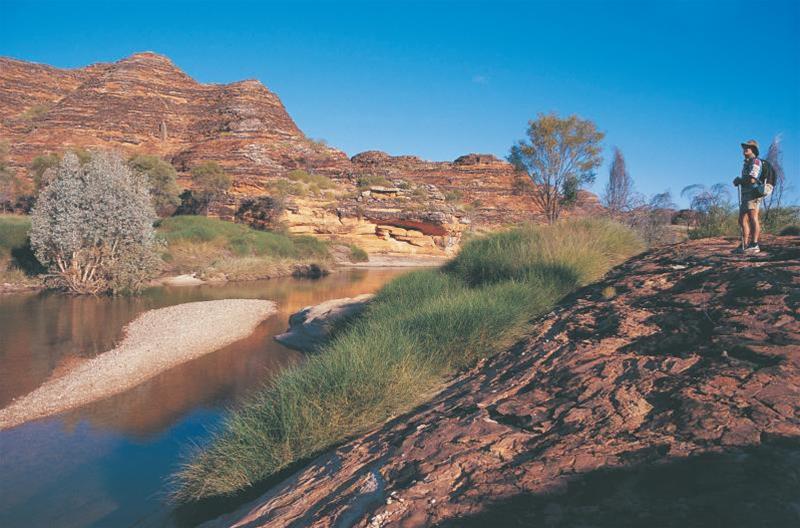 The Bungle Bungle Range, in Purnululu National Park, is one of the most striking geological landmarks in Western Australia, offering a remote wilderness experience.
Details
Description

From an aircraft, the Bungle Bungle Range is an imposing sight. The orange and black stripes across the beehive-like mounds, encased in a skin of silica and algae, are clearly visible as you approach from the south. As you sweep further over the range a hidden world of gorges and pools is revealed, with fan palms clinging precariously to walls and crevices in the rocks.
Helicopter flights are available from the Bellburn Airstrip.
Purnululu attracts visitors for a whole range of reasons; the sheer grandeur of the sandstone massif, watching it change to a golden colour late in the day, walking through some of the marvellous gorges, and for the really well-prepared, a walk along Piccaninny Creek for an overnight camping experience. Other walks include the Echidna Chasm Walk, Mini Palms Walk, the walk to Kungkalanayi Lookout, Cathedral Gorge, the Domes Walk, Homestead Gorge, Piccaninny Creek Lookout, Whip Snake Gorge and the Northern Escarpment Walk.
Visitors must carry in all food and water if they are staying in one of the park's two campgrounds (Walardi and Kurrajong). Most visitors camp for several days so it is essential to be well equipped as there is no shop within the park to get milk, bread etc.
Related
Location
Address: Purnululu National Park,Halls Creek,WA,6770
Phone: (08) 9168 4200
Email: