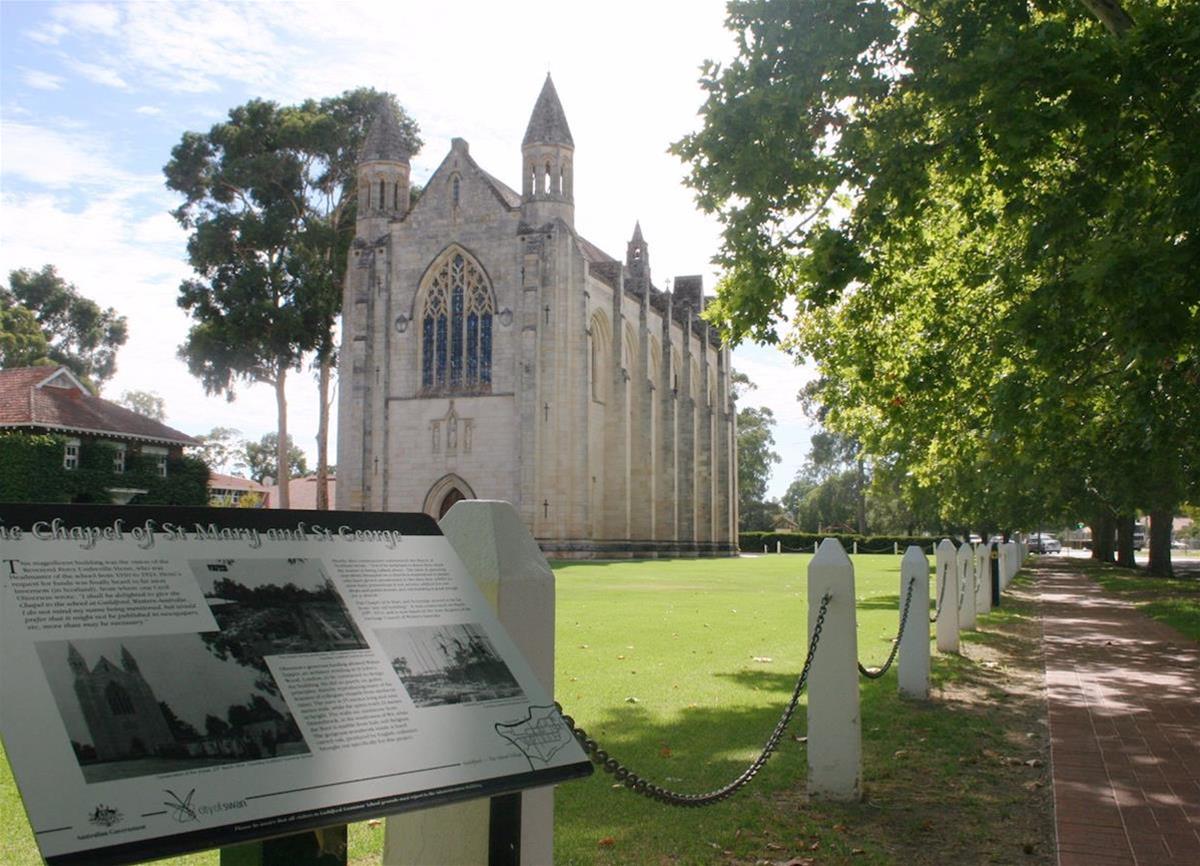 Guildford Heritage Walking Trails
Established on what is virtually an island encircled by the Swan and Helena Rivers, Guildford is ideally suited to exploration on foot.
Type:Tours
Activity:Bush Walking
Suited For:Families,Adults (18+),Seniors
Details
Type:Tours
Suited For:Families,Adults (18+),Seniors
Open Days:Monday,Tuesday,Wednesday,Thursday,Friday,Saturday,Sunday,Public Holidays,School holidays
Description
As one of Western Australia's original settlements, Guildford oozes history. You'll see it in its colonial buildings, 19th century architecture and majestic leafy trees that dot the parks and gardens.

Few locals would realise that Guildford is considered so important to the country's colonial past that the entire town is registered by the National Trust of Australia. Now you can learn more about our oldest inland town by grabbing your walking shoes and setting off on three new heritage trails.

Launched as part of the 175th Anniversary of Settlement celebrations, the trails visit historic buildings and sites in the town and along the river. They range from 20 minutes to an hour, making them great for both adults and kids.

The Town Walk is just less than two kilometres in length and should take you between 40 minutes and an hour. The walk is mapped by red trail markers and tours the town's major historic precinct, with signage at each significant point providing historical background.

You'll see some of Guildford's oldest buildings including the Courthouse, Gaol, Town Hall, Vaudeville Theatre and the Guildford Hotel. Convict labour was used during much of the building boom in the late 1860s, which saw the construction of the Courthouse. So well built, it was still used as a police station until the 1970s.

Slightly shorter than the Town Walk is the picturesque River Ramble which takes between half an hour and 50 minutes. Marked by blue trail markers, this walk leads to the Swan River and Moulton's Landing.

Built in 1829 as a public wharf, the Landing was used for the transportation of market goods and was named after Abraham Moulton who built a successful trading store nearby.

Unfortunately Mr Moulton didn't live long enough to enjoy the fruit of his labour. On a trading journey by sea to China the crew mutinied and Mr Moulton was found dead with a harpoon to the stomach, but his legacy lives on in the history of Guildford.

The River Ramble also visits a series of historic homes which still maintain some of their past glory.

The final in this trio of walks is the Stirling Square Circuit, which only takes about 20 minutes. Marked with black trail pointers, the circuit incorporates the best of the historic Meadow Street precinct before looping out to the lovely tree-lined parkland of Stirling Square. Here, great avenues of grand old sugar gums make an impressive sight.

This walk shows how Guildford was modelled on an English country village with a town square, a church at the centre and civic buildings and homes placed around it.

Each of the three new heritage walk trails is suitable for family groups and none require a high degree of fitness. All you need is an inquiring mind and a nose for history.

The trails begin and end at the Swan Valley and Eastern Region Visitor Centre which you'll find at the corner of Swan and Meadow Streets. A trail map is available from the Visitor Centre which is open seven days from 9am until 4pm, (08) 9379 9400.
Related
Wine Tour & Taste - Harris Organic Wines
Whistler's Chocolate Company
Whistler's Chocolate Company
VIP Swan Valley Wine Tour
Tour & Taste at Olive Farm Wines
The Sebel Swan Valley The Vines
The Colony @ Mandoon Estate
Taylor's Art and Coffee House
Swan Valley Palate Adventure
Swan Valley Cuddly Animal Farm
Swan Valley Bed and Breakfast Farmstay
River Cruising in the Swan Valley
Mondo Nougat Factory & Cafe
Keller's Bed and Breakfast
Harris Organic Wine and Spirits
Great Northern Distillery Tour
Faber Vineyard - Tour & Barrel Tasting
Discovery Holiday Parks Swan Valley
Black Swan Winery & Restaurant
Location
Address: CNR Meadow St & Swan St, Guildford WA 6055,Guildford,WA,6055
Phone: (08) 9207 8899
Email: [email protected]