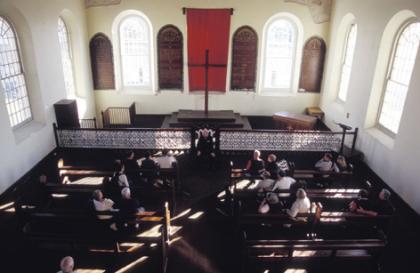 Haunted jail cells, army memorabilia and roaring vintage motorcars – Fremantle's quirky museums cater to all tastes and ages.
Details
Description
If the mere mention of the word "museum" makes you feel a little sleepy, a trip to historic Fremantle might just change your attitude. The port city's diverse museum experiences are sure to open your eyes to the quirks and eccentricities of life. And with most located on or within walking distance of the gorgeous Victoria Quay, touring on foot is a breeze.
First up on the museum circuit is veteran rally driver and motorcar enthusiast Peter Briggs's Fremantle Motor Museum. Located at B Shed Victoria Quay, the museum houses Australia's finest private collection of automobiles and related memorabilia. The multi-million dollar collection includes Paul Hogan's original Crocodile Dundee ute and a 1929 "Blower" Bentley valued at over $1 million, as well as a bevy of racing cars, land speed record breakers and historic vehicles. The retro-style Oscar's Cafe serves ice-cream and cool drinks and the venue can be hired for both corporate and private functions. Entry fees are $9.50 for adults and $5 for children and the museum and gift shop are open daily from 9.30am to 5pm. Call (08) 9336 5222.
Perhaps Fremantle's most popular tourist site, the Western Australian Maritime Museum is just at the end of Victoria Quay. It recounts Australia's ocean history. Next door to the museum, visitors can enjoy a tour of the Oberon class submarine Ovens, although a separate entry fee will apply. The Maritime Museum is open daily from 9.30am to 5pm and experienced guides are on hand, offering tours free of charge. Travelling exhibitions visit the museum often, including Australia Under Attack 1942-1943, which will run until January 28, 2007. The exhibition looks at life in wartime Australia under the threat of Japanese invasion. A gift shop and cafe can be found on site. Entry is $10 for adults and $3 for children, with family passes also available. Western Australian Maritime Museum, (08) 9431 8444.
Only a short walk from the Maritime Museum, overlooking beautiful Bathers Beach, is the Fremantle Round House, built in 1831 to imprison the settlement's lawbreakers. In 1837 the Whaler's Tunnel was added, giving the whalers of the time access from the beach to the town centre. Volunteer guides are on site from 10.30am to 3.30pm Monday to Sunday, to show visitors the four remaining cells and to recount the story of John Garvin, a 15-year-old murderer put to death on the building's steps in 1844. Daily at 1pm, a lucky spectator has the opportunity to serve as Honorary Gunnery Officer, firing a cannon and dropping the time ball in a re-creation of the early 1900s ceremony used to alert incoming ships of their position. Entry to the Round House is free with gold coin donations welcomed. Fremantle Round House, (08) 9336 6897.
Just a little further on, in the old Commissariat Building in Cliff Street, visitors will find the spectacular Shipwreck Galleries. The museum's piece de resistance is the partially reconstructed hull of the Batavia, the Dutch trading ship that was wrecked off the Abrolhos Islands in 1629, the opening scene in an epic tale of mutiny and murder. The recommended entry donation is $2 and tours are run at 10am, 11am, 2pm and 3pm daily, with opening hours from 9.30am to 5pm. A gift shop selling maritime memorabilia is also worth a look. Shipwreck Galleries, (08) 9431 8444.
On Finnerty Street, only a short drive away, is the Fremantle History Museum. Housed in the old lunatic asylum, supposedly the port city's most haunted building, the museum explores Fremantle's colourful colonial past. The recommended entry donation is $2 and the museum is open daily. Opening hours vary so call ahead for more information. Fremantle History Museum, (08) 9430 7966.
Given Australia's strong military history, the Army Museum of Western Australia is a must see. Located at the Artillery Barracks on Burt Street, the museum's exhibitions tell the story of Western Australia's military involvement, spanning from WWI to more recent battles in Afghanistan and Iraq. Military vehicles and equipment are also on display. Entry costs $5 for adults and $3 for children and the museum is open Wednesday, Saturday and Sunday from 11am to 4pm. Army Museum of Western Australia, (08) 9335 2077.
Related
World War One Battlefield Cross
Trench Art - Propeller Tip Photo Frames
Painting Lt Gen JJ Talbot Hobbs by Ernest Buckmaster
Medals Private John Horne
Medals Private David Stinton, Settler
Medals Pensioner Guard Private John Keefe
Medals of Pensioner Guard Private John McMahon
Martin O'Meara Victoria Cross Medal
HMS Louis Relic from Gallipoli
Location