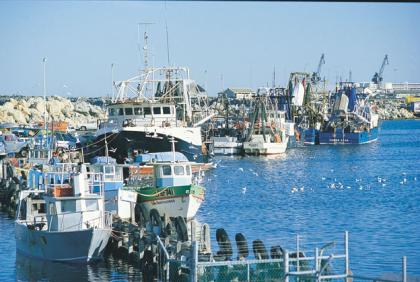 Stay close to home and catch some of the tastiest table fish on a deep-sea fishing tour from Fremantle.
Details
Description
Fremantle is renowned for its excellent deep sea fishing along the warm waters of Western Australia's continental shelf. The shelf (basically Australia's outer perimeter) is the best place to go deep sea fishing thanks to the warm, clear, low-nutrient waters of the Leeuwin Current. By pulling warm water southwards along the shelf, the current attracts all kinds of fish that are looking to escape colder waters.

For those that don't know, the basic difference between game and deep sea fishing is that game fishers compete purely for recreational pleasure, (catches are not often kept, but sometimes tagged and thrown back in Rex Hunt style). Deep sea fishing is for the enthusiast who wants to keep and enjoy their catch. So if you've got a hankering for freshly barbecued snapper, deep sea fishing is for you.

The ideal time to take a deep sea fishing charter is during autumn or winter when the current flows at its strongest and the water is at its warmest. At this time you can catch a variety of deep sea species including pink snapper, dhufish and Samson fish.

If you're looking for someone to show you how it's done, Warrior Princess Charters is one of Perth's best charter companies, with three fishing boats - the Warrior Princess, Apache and Blue Marlin.

The Warrior Princess is a purpose built vessel with a fully enclosed rear deck, barbecue and sound system, and at 60 ft is the most luxurious in the fleet. The Apache, the Warrior Princess' sister ship, is 55 ft with a separate lounge and fly bridge. It even has televisions on-board for those who appreciate their creature comforts. Blue Marlin is the fleet's 44 ft, fully equipped game boat. There is a fourth boat called Splash, but this is used exclusively for diving charters.

You'll have to rise early for your day on the ocean as fishing charters depart at 6am from the Sardine Jetty in Fremantle's Fishing Boat Harbour. Returning at 3pm, the charters are suitable for all ages, but parents are advised to travel solo if the weather looks rough on the day.

If you've never fished before, experienced crew are on board to teach you the ins and outs of the sport. Tour-goers get to keep what they catch, and if you'd rather not clean your fish, you can request to have it gilled and gutted on board (as long as it's of legal size!).

The average price of a charter is $125 per person and includes all fishing rods and reels, tackle and bait. If you're heading out with children under 14, they ride for $65. The company can also tailor a fishing holiday to meet your personal requirements including all accommodation and meals. The Abrolhos Island Adventures costs $1800 a day for boat hire and an extra $15 per person per day for meals. This trip caters for 12 people. Warrior Princess Charters also take tour groups to Dirk Hartog, Montebellos and Carnac Islands throughout the year. For more information or to book call 1300 555 167.

Two other companies who can take you deep sea fishing are Blue Juice Charters, who also leave from the Sardine Jetty daily (9402 8638), and Deep Water Charters (0428 929 643).
Location