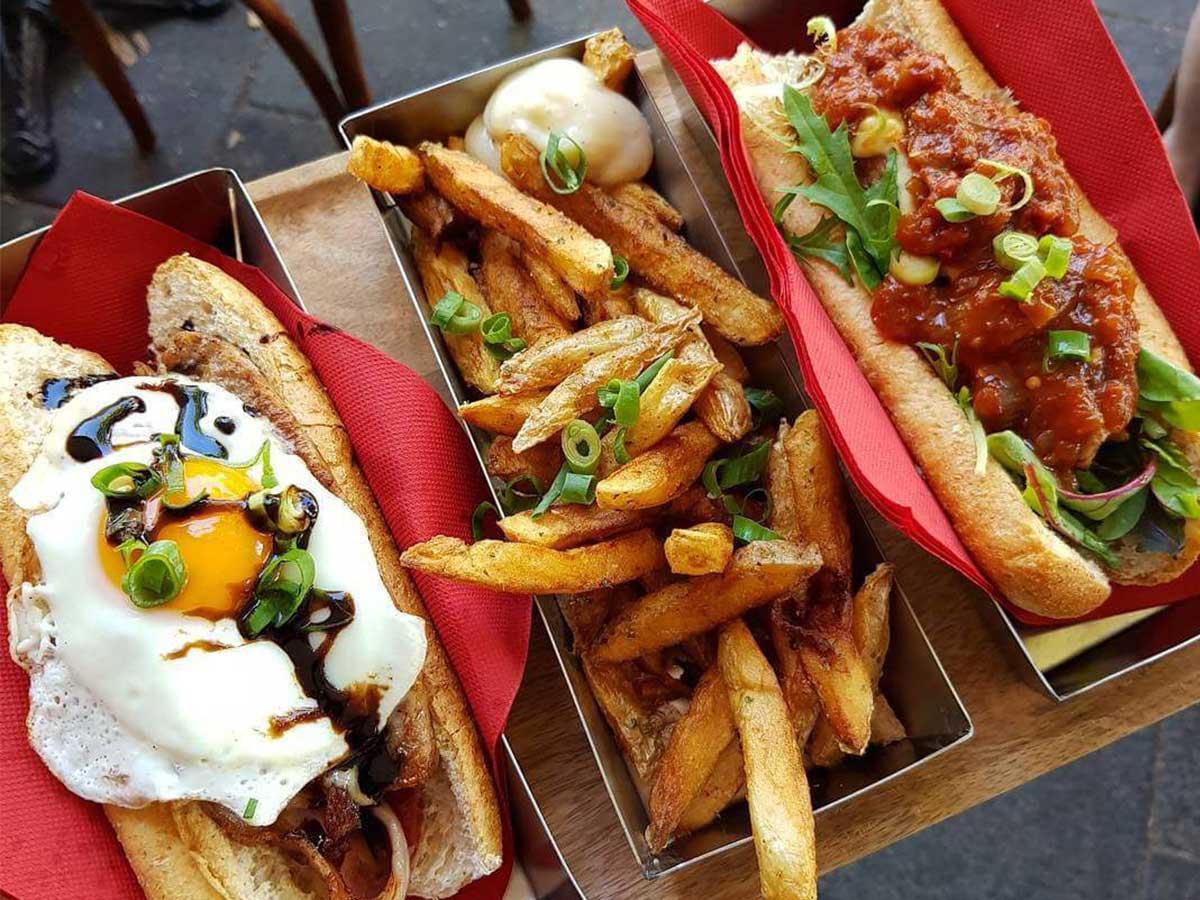 Combining amazing waves of flavour, each Wassup Dog is meant to tantalise and surprise you with its unexpected, yet perfectly harmonious use of luxurious ingredients.
Open Days/times:Open 7 days a week 9 AM - 9 PM
Details
Breakfast:Monday,Tuesday,Wednesday,Thursday,Friday,Saturday,Sunday
Lunch:Monday,Tuesday,Wednesday,Thursday,Friday,Saturday,Sunday
Dinner:Monday,Tuesday,Wednesday,Thursday,Friday,Saturday,Sunday
Description
Everything in a Wassup Dog is made from scratch – the bread, the condiments, and the crown jewel: the sausage itself. Our sausages are so bloody delicious – made with so much love – that you could just eat one on its own and still walk away impressed. But you don't have to do that. We bake beautiful, soft fluffy bread rolls to wrap those bad boys in, adding a delicious, subtle flavour of their own (and providing a nice by vessel for us to start adding the really fun stuff).
Taking inspiration from his world travels (and honouring his own country's national pride in their cuisine) nomadic Frenchman Jules Aknin creates the Wassup Dog menu like a mad scientist. But there is method to his madness, and art to his science.
The star of the show will always be LA SAUSAGE. Hand made on-premises using only the highest quality local ingredients, each of our hot-dogs is a work of art. Wassup Dog was founded to offer something special… a hotdog alternative to the world of fast food, for people who love great cuisine and don't want to put garbage into their bodies. This all starts with a good sausage.
Whether you dine in, take-away or catch us in the street, you are going to walk away from your Wassup Dog experience well-fed and with a new found respect for the humble hotdog. The perfect alternative to a burger (with vegetarian and vegan options) in Fremantle or East Perth with the advantage you can grab a beer or cider at the same time too.
Location