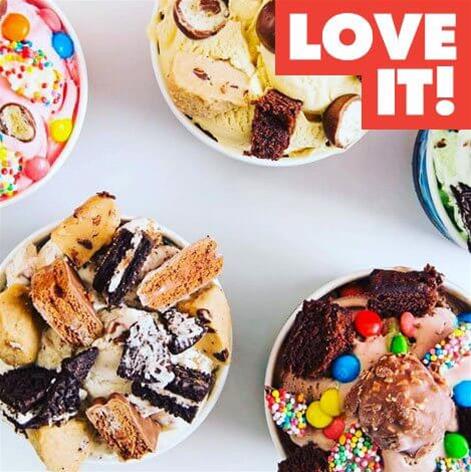 Cold Rock Fremantle
At Cold Rock, we're all about the fun experience, so we let you pick your favourite combination, which we then create for you on our unique 'Cold Rock' right in front of you
Open Days/times:Sun - Thur (11am to 10pm), Fri - Sat (11am to 10:30pm)
Details
Description
Our stores have an enormous range of premium Ice Cream, low-fat Ice Cream, gelato and sorbet flavours to choose from. These, combined with the wonderful delights to Mix In, provide you with over 3,000 different flavour combinations to choose from. We offer gummy bears, Kit Kats, Flakes, brownies, Freddo Frogs, Maltesers, M&Ms — take your pick! Other Ice Cream choices just got boring!
Take Home Pack and CakesYour choices are not just limited to Ice Cream in a cup; you can also take your delicious combinations home in a Take Home Pack, or mix them up into a Cake to celebrate any occasion. From birthdays to weekend get-togethers, our cakes are the cherry on top of your celebration. You can order up to three layers of ice cream (choose from 11 exciting flavours) and select from 24 MixIns for additional bites and bursts of sugary goodness!
We have drinks to Cool You Down If you are feeling thirsty whilst in store then we also have a yummy selection of Loaded Shakes, Smoothies and Spider drink options. So…what are you waiting for? Drop by our ice cream store and enjoy the Cold Rock experience today!
Location
Address: Millenium Cinema Complex 25 Collie St FREMANTLE, WA 6160,Fremantle Town,WA,6160
Phone: 08 9245 5036
Email: