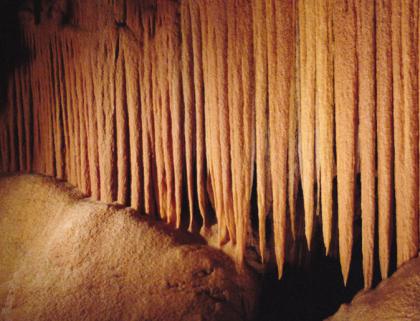 Take a tour through Jewel Cave near Augusta and discover a magical underground world of natural decorations and mysterious dark caverns.
Details
Description
The South-West is stunning during summer with its mild weather, perfect white beaches and lush forests that take the sting out of the searing sun. If you're looking for an even cooler experience, head to Jewel Cave, located 8km north of Augusta on Caves Road.
Like Jewel, most of the caves in the South-West are limestone and located on or in the Leeuwin-Naturaliste Ridge. There are literally hundreds of caves in the area but of those open to the public, Jewel is arguably the most visually spectacular.
Discovered in 1958, Jewel is the most recently opened tourist cave in the area. Famous for its very long straw stalactite formations (the longest is approximately 5.4m), the cave was named Jewel after a dogtooth crystal formation called Jewel Casket was discovered. Dogtooth crystal is extremely rare and is formed when a pool of water that's stood stagnant for a long period of time becomes saturated in calicite. While Jewel Casket is only the size of a large ball, the crystals are quite spectacular and literally look like a cluster of shimmering jewels.
Guided tours through Jewel Cave start daily at 9.30am and run every hour until 3.30pm. Lasting 45 minutes, the tours cover everything from the cave's history and formation through to the area's geology and conservation. Structured walkways have been thoughtfully installed in the cave but pass so close to the formations that for the sake of the cave's protection, it's not possible to experience Jewel's chambers unless you join a tour. On the plus side, those who do go on a tour will be able to walk right up alongside the ancient cave formations, and if you're into photography there'll be plenty of spectacular Kodak moments along the way.
Your tour guide will meet you at the top of the stairs, which descend into Jewel's first and largest chamber. The cave is 2.5km in length but as the majority is too difficult to access, the tour only covers about 800m. There are about 500 stairs to tackle but the tours are conducted at an easy pace and are suitable for all fitness levels. Unfortunately, unlike Mammoth Cave near Yallingup, there is no wheelchair access into Jewel Cave.
If caving makes you feel a little too claustrophobic, at Jewel there's a 700m bush trail called Karri Walk. Particularly picturesque in spring, when the wildflowers are out, this walk is flat, well worn and suitable for all fitness levels. It's also a great way to kill a bit of time if you're waiting for the previous tour to end.

Purchasing tickets:
Tickets can be purchased at the top of the stairs, where souvenirs and light kiosk-type snacks are also available. Tickets to Jewel Cave cost $16 for adults and $7.50 for children, or alternatively a family pass costs $46, which includes two adults and two children with any extra children free of charge. Alternatively, you can purchase a Grand Tour pass that gives you access to the three major caves in the area – Jewel, Lake and Mammoth. Grand Tour passes are $40 for adults, $19 for Children and $118 for families. All tickets also include free entry to Caveworks Educational Centre near Margaret River.

Discover Caveworks
If you're interested in learning more about the history and development of Jewel Cave, put some time aside to visit Caveworks at Lake Cave, located on Caves Road about 17km south of Margaret River. Designed to educate visitors on all the caves in the area, this state of the art facility is the first of its kind in Australia. Inside you'll find high-tec computer displays; a cave model; a video and lecture theatre; information booths; a crawl-through cave and a viewing platform where you can check out the entrance to Lake Cave. Knowledgable staff members are also on hand to answer any questions. Call Caveworks on (08) 9757 7411.
Location