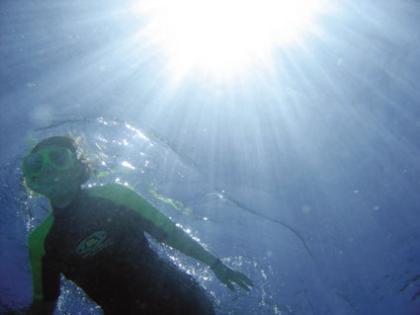 Ningaloo Reef has a wealth of attractions including beautiful coral, colourful fish – and chilled-out turtles
Details
Description
There's something so entertaining about turtles. Maybe it's the way they have been portrayed in cartoons – think 'Ninja Turtles' or Squirt in 'Finding Nemo.' Or maybe it's the way they amble along the reefs, seemingly chilled out and without a care in the world. Whatever the case, you can be sure viewing turtles in their natural environment will have you totally captivated.
You can see turtles among the dazzling reefs at Exmouth in a variety of ways – glass bottom boat tours, dive tours and snorkel tours.
But perhaps the best way is to go on a dedicated Snorkel with the Turtle tour with Ningaloo Reef Retreat.
This tour will ferry you from your accommodation in Exmouth to the Cape Range National Park. On the way, you'll watch a 15-minute video about the reef and then stop at the fascinating Milyering Visitor Centre for a quick look at the souvenirs and interpretative displays.
Next, you'll journey to the Ningaloo Reef Retreat campground, where you'll take part in a drift snorkel just 10m from the beach.
Here, in the calm waters of the bay, you'll see brilliant blue staghorn and a kaleidoscope of tropical fish. You can use flotation devices if you're not particularly confident in the water.
Then you paddle back to the beach to discuss what you've seen, learning something about the fascinating symbiotic relationships of reef life and about some of the incredible adaptations and survival techniques of the fish.
Next on the agenda is a snorkel at deeper holes in the reef about 200m offshore. It is here that you'll spot the turtles.
Both green turtles and hawksbill turtles hang out at a "cleaning station" here. Tiny cleaner wrasse diligently clean off parasites from the turtles as they loll about. "It's just like a car wash for turtles," according to Ningaloo Reef Retreat's Paul Wittwer.
Paul says the tours have a 95 percent success rate in spotting the turtles.
"We get into position about three or four metres away from the turtles and sit and watch them," Paul says.
"People find it incredible how much is on offer so close to shore.
"You go the Great Barrier Reef and have to sit on a boat for two hours to get there, whereas here it's all right off the beach."
After the turtle encounter, you can enjoy lunch – which is provided – on the beach before setting off to the stunning Turquoise Bay.
Here you can snorkel, swim or simply laze on the sugar-white shores.
After you drag yourself away from this popular Exmouth attraction, you'll then stop off at the Exmouth Lighthouse to take in the views before getting back to town around 4pm.
All you need to bring on tour is your bathers, towel, hat, sunglasses and sunscreen. Lunch and snorkelling gear is provided.
The tour costs $90 for adults, $50 for kids and is complementary if you choose to stay at the retreat.
Find out more by calling Ningaloo Reef Retreat on (08) 9949 1776. Or, for other turtle viewing options such as a dive tour, snorkel tour or glass bottom boat tour, contact the Exmouth Visitor Centre on (08) 9949 1176.
Location