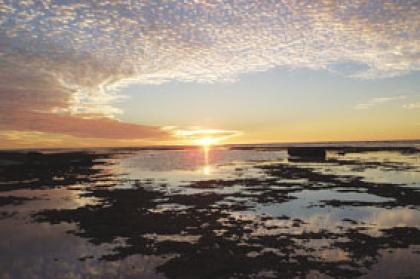 Discover over 250 species of colourful coral and 500 species of reef dwelling fish at Exmouth's world class snorkelling sites.
Details
Description
Exmouth is located on the edge of the Ningaloo Marine Park, one of the world's last remaining untouched fringing coral reefs. Stretching 260km south from Bundegi Beach, the Ningaloo hosts an extraordinary range of soft and hard coral, fish, turtles, stingrays, Dugongs, Whale Sharks, dolphins and more, making it one of Western Australia's premier snorkelling locations.

Snorkelling in Exmouth is best in the summer months when there is less swell on the reef. Although the surge from large swells can at times make diving fun, it can also stir up the seabed and reduce visibility. Also, the wind is quite still in summer, which improves visibility under the water.

There are a variety of ways to explore the best snorkelling spots. If you want to head out to some of the deeper locations there are myriad operators in town that can take you out on half day and day trips, combining relaxing cruises through the Marine Park with lengthy periods snorkelling.

However, many of the better snorkelling sites have easy beach access and are well suited to those who like doing things in their own time with an average snorkelling ability and level of fitness.

Turquoise Bay, located 60km south from Exmouth in the Cape Range National Park, is the best-known snorkelling haunt along the Ningaloo coastline. A beautiful and clear lagoon with white sandy beaches, Turquoise Bay is a great spot for viewing a variety of colourful coral.

To reach the snorkel entry point you will need to walk 300m south from the main car park and swim 50m out to the starting point. Turquoise bay is a drift snorkel, which means you let the current pull you over the coral in a northerly direction. If you're going to snorkel at Turquoise Bay it is best to do so at low tides as the currents at high tide can be too strong for inexperienced swimmers, especially near the gaps in between the reef.

Another site that is best snorkelled at low tide is Lakeside, located 5km north of Turquoise Bay. If you're planning on spending a day visiting different snorkelling sites, with an average depth of just two and a half metres this is a great place to ease yourself into things.

If you don't own your own snorkelling gear, there are a number of places that will loan you equipment for the day. The Milyering Visitor Centre in Cape Range National Park is located at the turn-off to many of the more popular snorkelling sites, and has sets available for hire 9am and 4pm. If you'd like to hang onto your snorkel gear a little longer, the three local dive shops, Village Dive, Exmouth Dive, and Coral Coast, have all got sets available for overnight hire. They also have a full range of snorkel equipment for sale if you'd rather purchase your own.

There are many more easily accessed snorkelling sites along the Ningaloo Coastline. For information on these, and licensed operators who run snorkelling tours, contact the Exmouth Visitor Centre on 1800 287 328.
Location