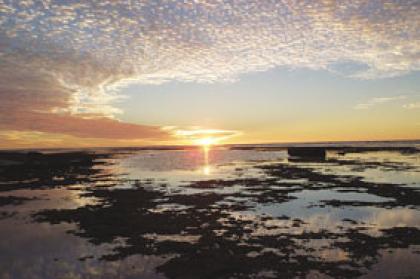 As the closest fishing harbour to the Continental Shelf, Exmouth is spoilt for choice with seafood restaurants offering some of the freshest fish you'll find.
Details
Description
If you're looking for good old-fashioned fish and chips, look no further than the Sea Urchin Cafe. Although fresh ocean fare is the star attraction here, those chasing something different will also find lasagne and a couple of good Thai curries, including fish, chicken beef and lamb, depending on what's available on the day. The Sea Urchin Cafe offers alfresco and indoor dining, is BYO and open daily from 5pm until late.

Whalers is one of Exmouth's finest restaurants, serving predominantly seafood dishes. If food from the sea isn't to your liking, there are also half a dozen non-seafood and vegetarian dishes, although the oven-baked snapper filo filled with spinach, mango and smoked cheese sounds pretty sensational to us! The seafood is all locally caught and the meals here are served in a large garden-style alfresco area, which is perfect for long lunches and overdue catch-ups. Kids are also catered for, with a small children's menu available. Whalers is open daily from 8.30am to 3pm for breakfast and lunch, and from 6pm until late for dinner.

Exmouth restaurants are all within walking distance of most accommodation, with the exception of Sailfish Bar and Restaurant at the Sea Breeze Resort. Located 5km north of town, Sailfish has a great social atmosphere, a shaded palm-lined alfresco dining area and one of the largest beer gardens in town. And if you're having trouble deciding who'll be the designated driver, the owners will pick you up from your accommodation and drop you back at the end of the evening. Sailfish specialises in seafood dishes and has a children's playground to keep the ankle-biters entertained.

You can't go past the Potshot Hotel and Grace's Tavern for casual, laid-back dining. Until the end of September, the Potshot operates the Court Restaurant, where a succulent seafood buffet is served each evening. Also running until the end of September is a Friday night carvery that proves particularly popular with campers and caravaners. At all other times, the restaurant offers bistro-style meals either indoors or poolside with an emphasis on fresh in-season prawns, crabs and red emperor. The Potshot Hotel is open daily for lunch from 11.30am to 2pm and for dinner from 6.30pm to 9pm. Naturally, the bar stays open till late.

Just down the road from the Potshot is the equally casual Grace's Tavern. This establishment, which has only been operating for the past five or six years, gives guests the option of dining at the bar or in the a la carte restaurant. The menu in the restaurant has recently changed and now includes dishes like smoked lamb rack with garlic mash and a merlot red wine jus, while the bar menu still offers well-priced treats like nachos with chilli con carne and fishermen's baskets. And with a juke box, large beer garden and pool tables, there's plenty to keep you entertained after your meal. Grace's kitchen is open seven days a week from 11.30am to 2pm for lunch, from 2pm to 5pm for light snacks, from 6.30pm to 9pm for dinner and if you're chasing a couple more drinks, the bar is open until late.

For meals on the go, we're told you can't go past Planet Burgers and BJ's Pizza. According to one local, Planet Burgers make "the best burgers and souvlaki this side of Mars". And the pizza at BJ's, where you can dine in and take-away, is also said to be pretty mean.

Another restaurant that's highly rated by Exmouth-folk is the Golden Orchid Chinese Restaurant. If you're chasing exotic flavours, this restaurant offers all your Chinese favourites on an extensive a la carte menu. Or, you can treat your stomach to an all-you-can-eat buffet on Thursday nights. The Golden Orchid Restaurant is open daily from 11.30am to 2pm for lunch Monday to Friday and 5pm to 10pm, Monday to Sunday for dinner.

Exmouth Restaurants:
Whalers Restaurant, 5 Kennedy St, (08) 9949 2416.
Sailfish, The Sea Breeze Resort, (08) 9949 1800.
Potshot Hotel, Murat Rd, (08) 9949 1200.
Graces Tavern, 829 Murat Rd, (08) 9949 1000.
Planet Burgers, outside the Potshot Hotel, (08) 9949 1201.
BJ's Pizza, Lot 393 Maidstone Street, (08) 9949 1244.
Golden Orchid Chinese Restaurant, Lot 390 Thew Street, (08) 9949 1740.
Sea Urchin Cafe, 73 Maidstone Crescent, (08) 9949 1249.
Location