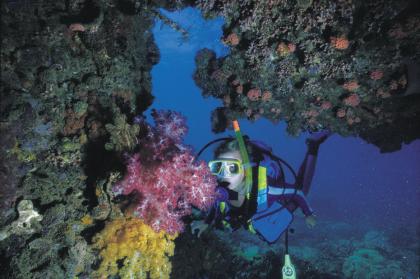 The Ningaloo Reef is considered one of the world's best reef diving locations, offering divers of all skill levels an opportunity to swim with the largest fish on earth and explore an abundance of multi-coloured tropical marine life.
Details
Description
Exmouth is located at the northern-most end of the famous Ningaloo Reef and is considered one of WA's premier diving locations. Home to more than 500 species of fish and 250 species of coral, it also offers the opportunity to spot turtles, manta rays, dugongs, dolphins and the world's largest fish, the whale shark, which visits the reef between March and June.
If you miss the whale shark season, there's always some interesting marine activity happening on the Ningaloo Reef. Humpback whales migrate to the area between June and November. Marine turtles, including loggerhead, green and hawksbills, begin their nesting season also in November.
The beauty of the Ningaloo Reef is that in the Exmouth area, it can be reached by simply wading five to 10m offshore. As the average depth on the reef is only two to four metres, the shallow areas close to shore are better suited to snorkellers. Those looking to scuba dive will find the best sites just inside and outside the reef where, along with all the reef-dwelling species, you'll also encounter large pelagic fish such as mackerel and tuna. The Navy Pier at the northernmost end of the reef also comes highly recommended. Here, more than 200 different species of fish create an amazing underwater aquarium.
Many seasoned divers rate the Navy Pier as one of the world's best pier dives. Likely diving companions include large schools of trevally, snapper and barracuda. More colourful species such as firefish, angelfish, Moorish idols and Queensland gropers can also be found between the pylons, while those interested in the smaller marine creatures can marvel at goby fish, anemones that house families of clown fish, flatworms and a variety of nudibranchs. Its relatively shallow depth of 15m makes the Navy Pier an ideal diving location for all levels of diver – even those who have never dived before. As the Pier is an operational defence facility, you can only dive here with a licensed operator. This is to ensure diver numbers are limited and the marine environment is protected.
On the outer reef, it's recommended divers check out Blizzard Reef, the Labyrinth and Helga's Tunnels in the Lighthouse Bay area. Many ridges, limestone reefs and excellent drift dives make the diving here extremely varied. Wildlife to be seen in the Lighthouse Bay area include pristine coral formations, a large array of tropical fish, reef sharks, eels, pelagic fish and octopus to name just a few. Depths at Blizzard and Labyrinth range from 12-18m while Helga's is better suited to experienced divers, with a depth of 30m.
The Murions are two uninhabited islands that lie 10 nautical miles north-east (a 45-minute boat ride) of Exmouth. The tranquil waters are warm and teeming with hundreds of tropical fish and an abundance of hard and soft coral gardens. Depths from three to 20m with plenty of swim-throughs make this a suitable dive site for all levels of diver, and this is a great place to visit if you're keen on catching the nesting turtles in November. Your tour guide will give you tips on how to watch the turtles without disturbing them.
The Nor West Reef is another exciting diving location that's suited only to experienced divers, and diving is limited to when the tides and ocean conditions are right (which is apparently not all that often). Lying about 1.3 nautical miles off the Nor West Cape, here you'll find an exciting collection of ledges, overhangs, coral bombies, gullies and small caves. Many operators are hesitant to visit this site unless you're able to prove you can dive at an experienced level.
Regardless of your diving ability, it's highly recommended you contact a licensed operator before heading out on a scuba diving adventure in Exmouth. Not only is a tour guide intimate with the area, they each have their own favourite haunts and can help you get the most from your experience.

Diving here:
General visibility: Anywhere from 10 to 30m.
Best seasons: Diving is good year-round on the Ningaloo Reef, but to dive with the whale sharks you'll need to visit the region anytime between March and early August. To best experience a swim with the whale sharks, climb aboard one of the whale shark tours that depart Exmouth daily.
Best dive sites: Lighthouse Bay, The Murion Islands, The Navy Pier, Bundegi for beginners and the Nor West Reef for experienced divers.
Cautions: Strong swells on the outside of the reef, occasional strong currents on the inside of the reef and sharp coral.
Who can take you there:
Generally, full day reef diving tours, with equipment supplied, range in price from $130 to $185. Those looking to dive with the whale sharks can expect to pay up to $360. Those wishing to simply snorkel with the sharks will pay a little less.
Exmouth Dive Centre, (08) 9949 1201.
Village Dive, (08) 9949 1116.
Ningaloo Reef Dreaming, (08) 9949 4777.

Getting your gear:
All operators in Exmouth have a hire service available and many of the tour prices include the hire fee. For those interested in owning their own gear, most operators can also deck you out in the latest and greatest, offering good advice at the same time. If you're yet to get your diving certificate, all operators are qualified diving instructors and are able to take you through your paces in Exmouth.
Location