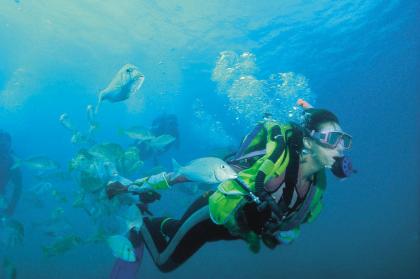 North-west Snapper, coral trout and red emperor are but a few of the mouth-watering table fish caught in abundance off the coast of Exmouth.
Details
Description
The fish living deep off the Exmouth coast are among the most delicious in the world. Even more satisfying than enjoying the fish once it's off the barbie, is the thrill of hooking one yourself then bragging about it over dinner.

The continental shelf is located just 12km off shore from Exmouth. Here, the Leeuwin Current sweeps warm, nutrient rich waters right down the West Coast attracting many deep-sea species of fish that are keen to escape the colder waters outside the current.

The skill in deep-sea fishing is to know where the fish will be at any given time – knowledge that only comes with experience. If you're not familiar with the area, the best way to start is to jump aboard one of the many professional tour boats that depart town daily.

You'll need to get a good night's sleep before heading out on a fishing adventure as most tours start at around 7.30am. Operators will pick you up from your accommodation, or alternatively you can meet at the tour office before being transferred to the Exmouth Marina, 12km north of town.

If you've heard that deep-sea fishing can be dull and tedious, think again because the Exmouth operators have an impressive record when it comes to hooking big fish and are familiar with all the good spots. Using GPS systems and various landmarks, your skipper will locate the perfect spot where you'll be shown how to bait and cast your line.

After a couple of hours fishing there'll be time to take a well-deserved lunch break. Most operators supply their guests with refreshments; typically barbecued treats, cold meats and salads, and home made sandwiches.

After lunch and some more fishing the boat starts heading back to the marina around 3pm. For the lazy and the very lucky, one of the crew will even clean your fish and pack it ready for when you disembark around 5pm.

The cost for a full day fishing tour starts from $145. If you'd like to turn your day tour into an overnight adventure, many of the boats are available for exclusive hire and private trips to the Monte Bello Islands. The cost per day for an exclusive hire starts from $1500 for up to 12 people.

Although you're welcome to bring your own equipment, the tours generally include all lures, bait and tackle. Those wishing to purchase their own fishing gear may like to pop into Bettsy's Seafood and Tackle, or Blue Water Tackle. The owners of both businesses are experts when it comes to fishing in Exmouth and will let you in on fishing secrets that only the locals know. Both fishing shops have charter boats available that are fully kitted out with all your fishing needs. Bettsy's Seafood and Tackle, (08) 9949 1410 and Blue Water Tackle, (08) 9949 1315.

There are plenty of good bare boat charters available for seasoned fisherman familiar with the Exmouth "hot spots". Alternatively, those lucky enough to have their own boat should head to the Exmouth Marina where there are boat ramps, large parking areas and general purpose boat pens. Other boat ramps can be found a little further north at Bundegi and on the west side of the peninsular at Tantabiddi.

Fishing Tour Operators – pull box.
• Blue Horizon: full day fishing tour on a 60 foot vessel. $160 per person including lunch, bait and equipment. (08) 9949 1620.
• Blue Bone Charters: half day tour on a 28 foot vessel. $100 per person including refreshments, lunch, bait and equipment. 9949 4499.
• Heron Charters: half and full day tours on a 55 foot vessel. $100 per person, half day, including bait tackle and drinks. $149 per person, full day, including lunch, drinks, bait and tackle. 0427 992 065.
• Ocean Quest: half and full day tours on a 40 foot vessel. $100 per person, half day, includes bait, tackle and drinks. $140 per person, full day, includes lunch, drinks, bait and tackle. 0400 219 122.
Location