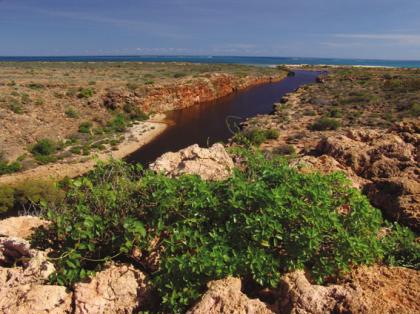 Gliding across a cool expanse of water on a Yardie Creek boat tour, you can't help but be impressed by Exmouth's awe-inspiring natural environment.
Tour Duration:90 minutes
Tour Price:From $40
Type:Tours
Suited For:Families,Kids (4 - 12),Teens (13 - 17),Adults (18+)
Details
Tour Locations:Yardie Creek
Type:Tours
Suited For:Families,Kids (4 - 12),Teens (13 - 17),Adults (18+)
Description
Exmouth is nestled between the dazzling waters of the Ningaloo Reef and the plunging canyons of the Cape Range National Park, making it a treasure trove of natural gems.
One of the best ways to experience Exmouth's fabulous nature-based attractions is on a Yardie Creek boat tour. Rust-red cliff faces soar above you on each side of the gorge and the short waterway stretches west to the brilliant blue waters of the ocean. It's truly a spectacular setting, enough to grace any postcard or photographic book.
But despite such obvious natural beauty, it takes a few pointers from your guide to fully appreciate the secrets of this nature rich landscape. On the tour run by the Department of Conservation and Land Management (CALM) you can learn about the ancient nature of the gorge and the Cape Range National Park, how the ruggedly beautiful landscape was sculpted by ancient rivers and weathered to its present form. Many of you may also be amazed to learn that this now arid landscape was once home to a lush rainforest.
Your guide's trained eye will help you to spot rare and impossibly cute black-footed rock wallabies perched on cliff tops high above. And they'll also point out bird nesting sites – pairs of corellas nestled in the cliff face or the huge nests of sea eagles and ospreys. The region is home to about 200 bird species and you'll be sure to spot a good selection on your Yardie Creek boat tour.
Travelling further up the creek you'll also learn about the Cape Range's network of tunnels and caves. These hidden underground habitats harbour an incredible collection of bizarre life forms. In ancient times, creatures retreated to the cool of the gorge's crevices and caves as the rainforest climate dried up. Over time, these creatures have evolved into species unique to this part of the globe. Some of these strange beasts grow only in their individual cave, making them highly important to conservation and science.
During the tour your guide will educate you on CALM's management of the national park and about the Department's efforts to eradicate feral animals and preserve the native animals and plants. And you'll also get some advice on how to minimise your own impact on this nature-rich landscape.
CALM's boat tours operate daily, or more frequently if there's sufficient demand. They take up to 24 people along a one-kilometre stretch of water in a tour that lasts about an hour. Adults pay $25 for the trip and a child's ticket costs $12.50. All you need bring is a camera.
The tours leave from near the mouth of the Yardie Creek gorge, about 40km south of the Milyering Visitor Centre on Yardie Creek Road.

Who to call:
CALM, (08) 9949 1676
Milyering Visitor Centre, (08) 9949 2808
Exmouth Visitor Centre, (08) 9949 1176.
Location