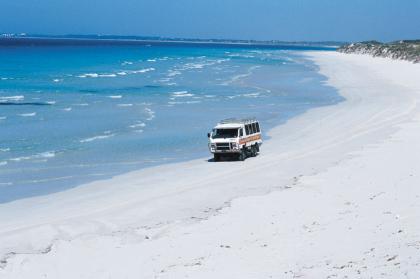 Heath-covered plains, rugged granite peaks and long sugar-fine beaches – welcome to the beautiful Cape Le Grand National Park.
Details
Description
Cape Le Grand is one of Western Australia's most spectacular national parks. Located approximately 50km east of Esperance it is easily accessible by sealed roads and offers magical scenery, excellent recreational opportunities and an abundance of flora and fauna.

Esperance is recognised world-over for its spectacular beaches. With sand so fine it cracks under your feet and waters more turquoise than any others along the southern coast, it's a well-deserved reputation. While there are many great beaches surrounding Esperance, Cape Le Grand is home to some of the area's most popular. In particular, check out Thistle Cove and Lucky Bay.

If you enjoy roughing it, there are caravan and camping areas at Lucky Bay and also at Le Grand Beach. While there are no powered sites available, there is tank water, septic toilets, solar heated showers and barbecues. Fees apply and start at $10 for two adults.

Those who enjoy bushwalking may like to visit the Cape Le Grand coastal track. This is a 15km one way trail from Le Grand Beach via Hellfire Bay across to Rossiter Bay. Featuring excellent coastal scenery the whole way, the track has been divided into a series of short trails. From an easy 45 minute stroll between Heritage Trail and Thistle Cove to a three hour hard walk between Le Grand Beach and Hellfire Bay, there's a walk to suit most bush adventurers.

If you'd rather get into a little rock climbing and exploring, head to the park's South-West corner. Here, massive granite outcrops form a chain of peaks including Mt Le Grand (345 m), Frenchman's Peak (262m) and Mississippi Hill (180m).

While you're free to carefully explore the area at your will, there is an established footpath that heads up Frenchman's Peak. 3km in length, this trail leads from the car park up a gentle slope to the summit. Although this is a difficult walk, you'll ultimately be rewarded with stunning views across the park. Allow one and a half hours.

Head to the heart of Cape Le Grand and you'll discover undulating heath-covered sand plains with swamps and freshwater pools spattered throughout. To some, this environment may seem arid and boring but in fact this is a nature lover's paradise. Get up close and you'll discover a wide variety of animal and plant life, many of which are unique to the Esperance area.

In particular, banksias thrive in Cape Le Grand. In deep sandy areas, you'll find dense thickets of Banksia Speciosa. On gravelly outcrops, where the soil is shallow, you'll discover Banksia Pulchella. As a source of food and shelter, both species attract an abundance of wildlife from honey-possums through to southern brown bandicoots.

While there are good sealed roads and excellent barbecue facilities through out the park, if you're looking for a bit of guidance, Aussie Bight Expeditions run full and half day tours to the park.

Starting from Esperance, you'll head straight to Cape Le Grand where you'll go for a 25km drive along the beach past some of the most spectacular bays and landforms. Your tour guide is familiar with many of the wildflowers in the area and will stop to point them out along the way. He'll also tell traditional stories and point out important aboriginal landmarks. On fine days you can also snorkel, swim, explore and sandboard. If you've never sandboarded before, this was a real rush and definitely worth a try.

If munching on homemade fruitcake while drinking fresh billy tea on one of the world's most spectacular beaches sounds like a great way to spend a morning, your tour also includes morning and/or afternoon tea and lunch if you're heading out for the day.

Visitor's fees apply to Cape Le Grand National Park and the money raised is used to improve park facilities. The Department of Conservation and Land Management (CALM) manage all the national parks in the area. For more information and park passes, pop into the Esperance District Office, 92 Dempster Street, Esperance, (08) 9071 3733.
Location