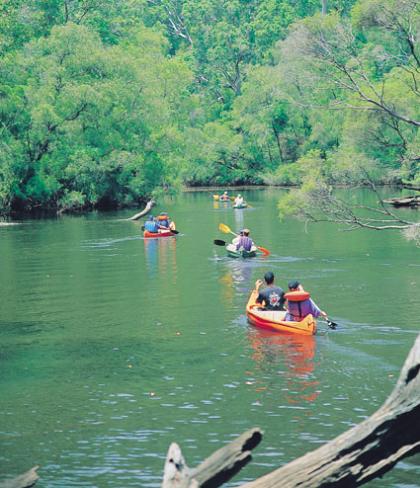 Crisp days and high water levels make spring the perfect time to canoe the Murray River.
Details
Description
The Murray River offers excellent canoeing in spring. Dwellingup Adventures run a number of canoeing tours at different sections of the river, catering to all abilities.

Half and full-day self-guided, supported tours are a great way to familiarise yourself with the Murray. Your tour operators lead you in your vehicles to the finishing spot. Leaving your cars behind, they then drive you and the canoes to the 6km half-day or 10km full-day drop off points. When you finish, all you have to do is head home in your car leaving the packing of the canoes to the tour operators who wait until all participants have finished.

Self-guided overnight tours are available for those who have canoed before and are interested in exploring the upper reaches of the river. The tour includes your canoes, tents and safety gear. Overnight tours, combining a walk along the Bibbulmun Track with a half-day canoe, are also available and suitable for those with little or no canoeing experience.

The tours are run on the gentle sections of the river, but Dwellingup Adventures are happy to give advice on river conditions and water levels for those looking for something a little faster. For experienced paddlers the middle Murray section near Dwellingup has grade two and three rapids.

If you'd like to hit the water on your own but haven't got the gear, Dwellingup Adventures offer a dry high option, allowing you to transport the canoes on your own.

OTHER STUFF:
If canoeing doesn't rock your boat, there are other excellent adventures in the Peel Inland like horse riding, skydiving, bike riding along the new Munda Biddi Bike Trail, and bush walking for those looking for something a little more low key.
Location