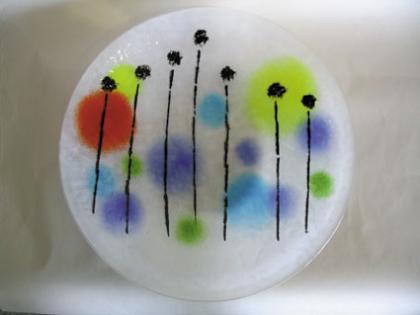 Those with a penchant for all things arty should take a special trip out to Denmark, where you'll find yourself in the vicinity of some of WA's best galleries.
Details
Description
Since the creation of Artsouthwa, the art and craft scene has really come alive in the Great Southern. This organisation has brought together artisans from across the region and has created a website – artsouthwa.com.au – offering information on more than 170 individual artists, 20 galleries and 20 arts organisations.

While these practitioners are scattered from Kendenup in the north, through Albany and across to Walpole in the south, glassmaker and Artsouthwa president Angus Makenzie says Denmark is currently, "the hot spot for art and craft in the whole of the southern region". And, as the following paragraphs prove, the Denmark galleries offer something for everyone.

Mix it up
Located just off the Scotsdale Tourist Drive is The Edge Gallery and Coffeehouse, a contemporary gallery full of artwork that's bold, colourful and a little out of the ordinary. The two artists in residence are Angus Mackenzie and his ceramist wife Melanie, and along with their art, you'll find a great range of paintings, textiles, wood, jewellery and more. Before moving on, take time to sit among the art in the cafe that overlooks the garden. During the coming months, there's an abundance of birds and Angus says that, "the blue wrens will come right up to you. They'll sit on your hand and even your knee if you sit quietly". From September, the gallery is open from Wednesday to Sunday,
10am-5pm, (08) 9840 9237.

The Old Butter Factory is also great if you're looking for a cultural mix. Situated at the start of Mount Shadford Drive in the heart of town, the gallery is spread over three floors in a heritage-listed building that was built in 1926. On the first level you'll find fine art and craft such as paintings, pottery, glassware and textiles. The second floor is exclusively fine woodwork and the top floor is a display area for rugs and antiques. The Old Butter Factory is open daily from 10am to 4.30pm, except Sunday when the gallery opens at 11am. Also at the Old Butter Factory, although separately owned, is the restaurant Mary Rose. If you fancy a bite to eat after browsing the gallery, the restaurant is open daily from 10am to 4.30pm and for dinner on Friday and Saturday nights.

Jewellery
If all things sparkly interest you, there are two galleries in Denmark that specialise in jewellery – Gallery Handmade and The Jewellery Box.

Gallery Handmade has a fabulous selection of beaded jewellery, mostly made in-house. The unique collection also includes non-beaded jewellery, mosaics, ceramics and a small selection of local arts and craft. The gallery is open weekdays from 10am to 5pm (closed on Tuesdays), and on weekends from 10am to 2pm, although it's a good idea to call ahead if you're travelling in winter, as opening hours vary.

Pop into The Jewellery Box and you'll find a stunning range of local jewellery made from silver, platinum, gold and other precious minerals. While the jewellery here is a little more expensive, the quality is second to none. If you like what you see, but aren't quite satisfied, commissions are also accepted. The Jewellery Box is open from Monday to Saturday, 9.30am-5pm.

Ceramics and sculpture
Those looking for a dinner set with a difference or perhaps an ornamental teapot can visit Jonathon Hook Studio Ceramics and Clay Bodies. Jonathon Hook is the place to go for the tableware, which you'll find in an assortment of styles, colours and patterns. Here you'll also find a wide range of other ceramic fine art. As the name suggests, Clay Bodies artist Robyn Lees offers bold ceramic sculptures, jugs and that teapot we mentioned earlier. Each piece comes with a unique story and is inspired by the female form. Jonathon Hook Studio Ceramics is open Monday to Friday, from 10am to 5pm and on weekends, public holidays and school holidays from 12 noon to 4pm, (08) 9848 1436. Clay Bodies, open 10am-4pm on weekends, on public holidays and by appointment, (08) 9840 9444.

Paintings
There are three great galleries to visit if you're just interested in paintings – Scotsdale Studio Gallery, Gallery 2 and David Rich Art Studio. Scotsdale Studio Gallery is well suited to people whose tastes include abstract still-life and landscape art, and anything that goes beyond the ordinary. Gallery 2 attracts those with more traditional tastes and tempts with its regularly changing exhibitions by talented local landscape painter Michael Cartwright. And if you just can't get enough of our famous Western Australian beaches, then you share a passion with artist David Rich, whose incredibly realistic seascapes are displayed in his self-named gallery. All three galleries are located either right in the heart of Denmark, or not far from it. Scotsdale Studio Gallery is open daily from 10am to 4pm, (08) 9848 2829. Gallery 2 is open daily from 10am to 2.15pm, (08) 9848 1281. David Rich Art Studio reopens after winter, from Thursday to Sunday, 11am-5pm, (08) 9848 3849.

Something a bit different
While On View Picture Framing is predominantly a quality framer, you'll also find a great selection of ready-framed prints and photographs for sale. Call (08) 9840 9238.
Ulla Zettergren Studio is perhaps the most bizarre gallery experience in the area, with sculptures made from sawdust-fired terracotta on rammed earth bases – horses, cats and people are just a few of Ulla's weird and wonderful creations. Call (08) 9848 3448. And if you've worn out your slippers this winter, you can grab a good dinky-di pair of uggies at Lassi Leather Works along with other sheepskin products, pure wool clothing and timber ware. Call (08) 9840 9221.

Travelling further afield
There's no end to the excellent galleries in and around Denmark. If you head west from town you'll come across The Valley of the Giants Gallery, which exhibits artist in residence D J Brennan's landscapes, drawings, paintings and sculptures. The Spiral Gallery specialises in high-quality porcelain tableware and other pieces. And The Bridge Art Gallery features a collection of local paintings, woodwork, jewellery and textiles. The Valley of the Giants Gallery, (08) 9840 8343, Spiral Gallery, (08) 9840 8140, The Bridge Art Gallery, (08) 9840 8286.

More information:
A copy of the Southern Regions Art and Craft Map can be picked up at the Denmark Tourist Bureau. If you're looking to get more involved in the arts while in Denmark, contact Artsouthwa at [email protected], or call Edge Gallery direct on (08) 9840 9237. Also, don't miss the Southern Art and Craft Trail from October 2 to 17, where 50 special exhibitions will be staged throughout the Great Southern.
Location