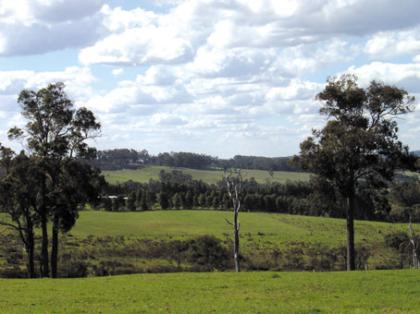 Once winter's kicked in, it's handy to be armed not just with a good map of the tourist routes but also with a few clues about how best to satisfy your culinary cravings while exploring Denmark and surrounds.
Details
Description
If your priority is views, there are few more spectacular than the one from The Observatory on Mt Shadforth Road in Denmark. Watch the weather do its thing over the distant Wilson inlet, green valleys and breathtaking hills that change colour before your eyes. In the winter an open fire – coupled with a comprehensive wine list reflecting the Great Southern's grape bounty – keeps things cosy. The Observatory is open seven days for lunch and dinner, but not breakfast. If you're staying at the on-site accommodation or nearby, the breakfast at Chimes Spa Retreat down the road is unbeatable.
There's more spectacular scenery at Matilda's Estate, where a refit a couple of years ago saw the restaurant revamped into a modern eatery with picturesque views of the vines and the creation of a modern Australian menu that perfectly complements Matilda's Estate wines. One of few vineyards with eateries in the area, it's a good spot for lingering. Matilda's Estate is off Denmark's popular tourist drive, Scotsdale Road, and is open for lunch seven days and dinner on Friday and Saturday nights. Bookings are recommended.
Comfort food is an all-day concern at Mary Rose Restaurant in North Street (behind Dewsons). Along with homemade cakes prepared on the premises, it's famous for its beef and burgundy pies delivered with love beside the pot belly fire. Breakfast is expansive and available all day. The restaurant, with a varied menu selection, is also open for dinner on Friday and Saturday nights. It's licensed, but you can BYO if you prefer.
If hunger strikes while you're sightseeing in the Walpole direction, the restaurant at the Thurlby Herb Farm is a good choice. The professional chef plunders the on-site vegetable garden for fresh ingredients to augment the interesting lunch menu, which has plenty of good options for both vegetarians and carnivores and is refreshingly easy on the wallet. The restaurant is open seven days for lunch only, and if you're still feeling the pang of hunger, home made cakes can help sustain you through any difficult decisions in the eclectic gift shop. Thurlby Herb Farm and Restaurant is on Gardiner Road, Walpole.
There's also another surprising gourmet experience in the same vicinity. You might think the "blink and you'll miss it" town of Nornalup is an improbable place for a classy eatery, and normally you'd be right. But the Nornalup Teahouse flies in the face of expectations and turns out the kind of food, service and ambiance that folks in the know travel widely for. It's open for breakfast, lunch and dinner from 9am Wednesday to Monday, and has an inexpensive wine list showcasing many local drops. Again, bookings are recommended.
Back in the town of Denmark, a quick, casual lunch with gourmet overtones is reliably found at Bibbulmun Foods – a providore-cum-cafe where you'll find soup, toasted pides and other tasty inventions. Alternatively, you can take them away, perhaps with a selection of wine-friendly nibbles to enjoy by your log fire of choice. Coffee is good here, too. Bibbulmun Foods is open Monday to Saturday, 7.30am to 4.30pm.
Other in-town cafe options are Lushus, with its bright colour scheme and wholesome fare mingled with the "very Denmark" smell of incense, and The Lion's Den, whose sunny courtyard catches the winter sun when it's around. Both are on the river, so it's not far to go for a post-lunch amble. After eating at both these cafes, you'll need to work up an appetite for dinner.
Location